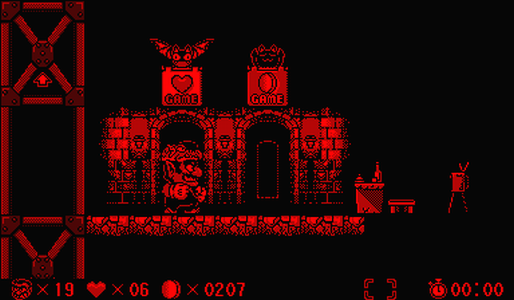 #99: Virtual Boy Wario Land
Released In: 1995
Developer: Nintendo
Publisher: Nintendo
Adventure! It is Wario's destiny - and yours. Do you have the skill and savvy to help Wario fight his way through mysterious underground caverns, taking short breaks every 20 minutes to prevent vertigo, to gain a priceless pile of prizes? If you think you have what it takes, be warned: you will face off against a host of bizarre enemies with names like Mask-Guy, Chippy, Blade-Face, and Bomb-Bat. Good luck!
Syd Lexia: OMG, 3D graphics on the Virtual Boy? That's crazy. Was this game based around a cheap gimmick? Yes. Was it a really fun game despite this? Yes. Is it worth your time to track it down and play it? Absolutely not. Wario Land was pretty badass in 1995, but the years have NOT been kind to it. With its crude 3D graphics and clumsy controls, Virtual Boy Wario Land exists on this list more as a fascinating historical artifact than an enduring classic.
Valdronius: I was always a pretty big fan of Virtual Boy Wario Land, so when Virtual Boy Wario Land came out, I was intrigued enough to buy it. It had fun Warios and interesting level designs that included elements like obstacles, Wario, and bees. The game suffered from jerky controls however, and it had a fairly steep learning curve. But if you were able to unlock the fourth Wario and you learned to guide it well, it kicked some major ass.
SpamBot 5000: Refine your culinary skills at a top culinary program near you.