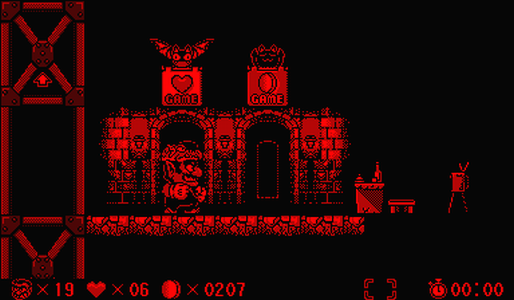 #98: Virtual Boy Wario Land
Released In: 1995
Developer: Nintendo
Publisher: Nintendo
One day, Wario was vacationing in the Awazon river basin when he spied some Mask-masked creature things entering a waterfall. Wario followed them and discovered that there was a cave behind the waterfall that held a huge vault of treasure. The creatures tried to stop Wario from taking their treasure, but he made short work of them. Then, just as the greedy protagonist was about to grab the treasure, the ground collapsed beneath him, sending him deep into the earth. Now it is up to you: help Wario return to the surface and grab the treasure!
Syd Lexia: Fat sweaty YouTube video game critics love to pick on Wario's video games, and there are two reasons for this. The first reason is that most of these games are genuinely terrible. The second reason is that is that none of the games "capture the spirit of the character". What these morons fail to realize is that a game that captured the spirit of Wario would be boring as fucking hell. Here's what a real Wario game would be like: you'd run around stealing everything and not taking any damage, then Captain Maple Syrup would show up and you'd be completely fucked. Game Over. Does that sound like a fun game? No, it doesn't. Virtual Boy Wario Land, on the other hand, is damn fun. It's a highly competent platformer that manages to do justice to one of the few interesting Wario storylines.
FNJ: Wario Land is like no other game currently available. You pilot a towering Vertical Tank in a first person cockpit simulation game. This is accomplished with a 40-button, 3 block, 3 foot pedal controller. You will become immersed in many battles ranging from amphibious operations, to battleship duels, and even assaulting cities!
SpamBot 5000: Are you interested in better positioning on the web? Allow us to give you, a free website review with no strings in your reply.