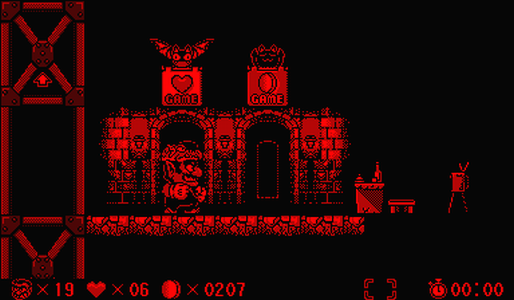 #95: Virtual Boy Wario Land
Released In: 1995
Developer: Nintendo
Publisher: Nintendo
One day, Wario was relaxing in the Awazon river basin when he spied some strange masked creature things entering a waterfall. Wario pursued them and discovered that there was a vault behind the waterfall that held a gigantic pile of treasure. The masked creature things tried to stop Wario from taking their treasure, but he beat the hell out of them. Then, just as the greedy anti-hero was about to grab the treasure, the ground collapsed beneath him, sending him deep into the earth. Now it is up to you: help Wario return to the surface and take that treasure! If you wear glasses or contact lenses, be sure to wear them while using the Virtual Boy.
Alexis Acid: I wish this game had a better story. I know Nintendo isn't exactly known for their brilliant storytelling, especially in the Mario universe, but they could have tried a little harder. You can't just string random words and images together and pretend that it's meaningful. Audiences are smarter than that, and they won't tolerate it.
Dr. Jeebus: I know NOTHING about the game and I don't intend to learn.
SpamBot 5000: Buy our replica accessories and get a discount for your future purchases. Bvlgari replica key chains will make your bunch of keys look great.