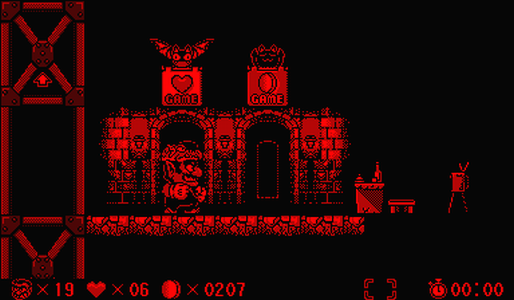 #94: Virtual Boy Wario Land
Released In: 1995
Developer: Nintendo
Publisher: Nintendo
One day, Wario was taking a much-deserved vacation in the Awazon river basin when he spied some strange masked creature things entering a waterfall. He followed them and discovered that there was a cavern behind the waterfall that held a large stack of treasures. The masked creature things tried to stop Wario from taking their treasures, but he quickly defeated them. Then, just as Wario was about to grab the treasure, the ground collapsed beneath him, sending him deep into the earth. Now it is up to you: help Wario return to the surface and steal the treasure! When the batteries get low, an indicator will light up and flash on the bottom of the screen. Please change the batteries as soon as possible.
Ed: Wario has always been an interesting character. He was of course created for Super Mario Land 2, and because a different creative team was behind the Game Boy incarnations, it always felt a bit like those games existed in an alternate universe. But what a great villain! Clearly Nintendo realized they were onto something, because they spun him off into multiple franchises. They should have stopped before introducing Waluigi, though. Screw that guy.
Valdronius: Wario Land is a really fun game, and the Virtual Boy is really cool too. Somehow Virtual Boy Wario Land does neither one justice. I tried to play this game in order to have something worthwhile to write here, I really did, but I was so bored after 15 minutes I just couldn't force myself to go on. How did this ever beat Virtual Boy Wario Land?
SpamBot 5000: We are sending this message to let you know that your credit card information has been changed. To review or change your account information, please visit Your Account.