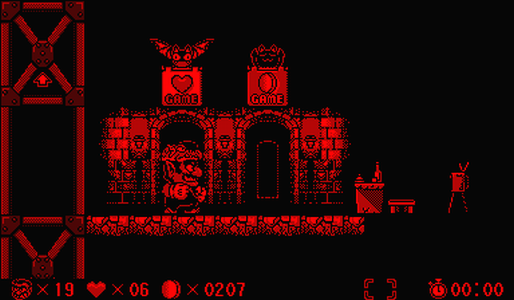 #93: Virtual Boy Wario Land
Released In: 1995
Developer: Nintendo
Publisher: Nintendo
Once upon a time, Wario was vacationing in the Awazon river basin when he spied some bizarre creatures entering a waterfall. Wario gave chase and discovered that there was a cave behind the waterfall that held a big pile of treasure. The creatures tried to stop Wario from stealing their treasure, but he made short work of them. Then, just as the greedy Wario was about to grab the treasure, a chasm opened up, sending him deep into the earth. Now it is up to you: help Wario return to the surface and grab the treasure! In each level you will collect coins, hearts and treasures.
Syd Lexia: I enjoy this game a lot. Wario really peaked with Virtual Boy Wario Land and Game Boy Color's Wario Land II. Since then, it's been mostly downhill. The recent Wii platformer was a step in the right direction, but I feel like it was too little and too late, and that Wario's days as a marketable character are probably over.
Valdronius: OK, let's look at this game for what it really is: a game designed by Nintendo to appeal to non-RPG players. However, for what it was, it was pretty good.
FNJ: The basic game is quite nice. The graphics are solid. Indeed, there is a bit of draw-in a little more close to the camera than you would want. In spite of this, the environments look very good. Nintendo has also done a nice job of creating a "fog of war" sort of look to the graphics. The polygons are not shiny and new looking, as is so often the case. Everything looks a little grey, as I suspect it would if giant mechs really were blowing up everything to bits.
SpamBot 5000: Imagine a birthday that begins with a surprise visit from FTD. When you celebrate with the world's most beautiful flowers, they'll know how much you truly care.