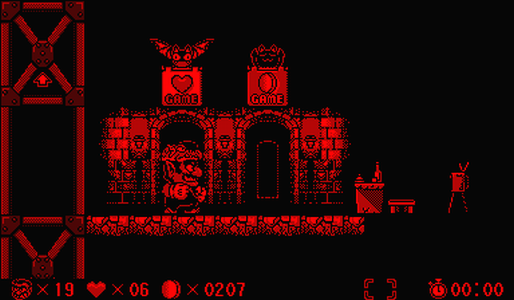 #92: Virtual Boy Wario Land
Released In: 1995
Developer: Nintendo
Publisher: Nintendo
One day, Wario was resting in the Awazon river basin when he spied some strange creatures entering a waterfall. Wario followed them and discovered that there was a cave behind the waterfall that held a magnificent treasure stash. The creatures tried to prevent Wario from taking their treasure, but he totally kicked their asses. Then, just as the greedy anti-hero was about to grab the loot, the ground collapsed beneath him, sending him deep into the earth below. Now it is up to you: help Wario find his way back to surface and obtain the treasure! After playing for 20 minutes or more the game will present you with the Automatic Pause Screen when you are between stages. At this point, please take a break and rest.
Syd Lexia: This was easily one of my top ten favorite Virtual Boy games back in the day, and I've always been disappointed that it never received a proper sequel. But with the Nintendo 3DS on the horizon, that situation is almost certainly guaranteed to change.
Valdronius: Dear Nintendo, please stick to football and Ninja Gaiden.
Optimist With Doubts: Wario started out as a somewhat interesting character but has shifted personalities more dramatically than Ryan on The Office. In the beginning, he was greedy, sort of an evil Mario. So his name makes sense, "W" is an upside-down "M". Ha ha, very cute. By the time Super Smash Bros. Brawl was released, Wario had stopped being evil and become a gross, silly fart machine. What kind of crap is that? It's only a minor annoyance though, because his games are still awesome.

But Waluigi was completely unnecessary. An upside-down "M" is clever because it's an actual letter, and as such, it is possible to pronounce. An upside-down "L" doesn't make any sound that I'm aware of, and it certainly doesn't just put the "wah" sound in front of an "L". Waluigi is the worst person in the world I hope he gets video game AIDS.
SpamBot 5000: KirstenDunst may not appear in your follower list. KirstenDunst may have decided to stop following you, or the account may have been suspended for a Terms of Service violation.