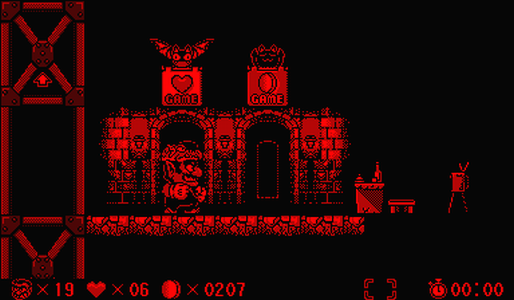 #91: Virtual Boy Wario Land
Released In: 1995
Developer: Nintendo
Publisher: Nintendo
Wario was vacationing in the Awazon river basin one day, when he spied some masked natives entering a waterfall. Intrigued, he pursued them and discovered that there was a cave behind the waterfall that held an amazing pile of treasure. The natives tried to stop Wario from taking their treasure, but he made short work of them. Then, just as the greedy adventurer was about to snatch the treasure, the ground collapsed beneath him, sending him careening deep into the earth. Now it is up to you: help Wario return to the surface and grab the treasure! To reset the game, press the START, SELECT, A, B, and R buttons simultaneously.
Douche McCallister: Wario Land single-handedly got me through my parents' divorce. I would indulge in the crisp lush backgrounds, virtual reality, as some experts would say. Unfortunately upon coming out of my Wario coma I went into an actual coma. I awakened years later only to learn that Virtual Boy was not only discontinued but the statute of limitations on my ability to sue had also lapsed.
FNJ: Let me start out by saying this, if you have ever enjoyed any fighting game, 2D, 3D, whatever, you will love this game, or at the very least appreciate it. Wario World has been a long time coming for Virtual Boy, was it worth the wait? I say yes, well worth it.
SpamBot 5000: You have received a new private message to your account on "SydLexia.com" and you have requested that you be notified on this event. Remember that you can always choose not to be notified of new messages by changing the appropriate setting in your profile.