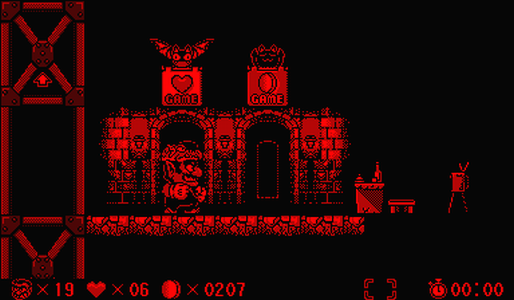 #89: Virtual Boy Wario Land
Released In: 1995
Developer: Nintendo
Publisher: Nintendo
Danger! Action! Excitement! These are Wario's destiny - and yours. Do you have the skill and courage to help Wario battle his way through mysterious underground caverns, taking short breaks every 20 minutes to prevent motion sickness, to acquire a ridiculous amount of mad loot? If you think you have what it takes, be warned: you will face off against a host of bizarre enemies with names like Mask-Guy, Chain-Saw Fish, Blade-Face, Vase-Based, and Mastah Mosquito. Good luck... you'll need it!
Syd Lexia: Aside from Mario Strikers Charged, this is the only Nintendo game I enjoy. The game is very simplistic by today's standards, but it is damn fun and very addictive.
Valdronius: I remember the first time I saw this game. I was at a rental store, and I absolutely had to play it. But I couldn't; I was on vacation and I didn't have my Virtual Boy with me, so I realized it would've been kind of pointless to rent it. In retrospect though, I guess I could have just rented it and never returned it... they never would have found me. Anyway, I never ended up getting my hands on it, and it wouldn't be until the days of emulation before I actually gave it a try. My first impression was that it was kind of disappointing, mostly because I had no idea how to do special attacks. Once I figured that part out, it was an okay game.
SpamBot 5000: Get $25 off the new PaintShop Photo Pro X3. Includes new Smart Carver, RAW Lab, batch processing, new project creation tools & much more!