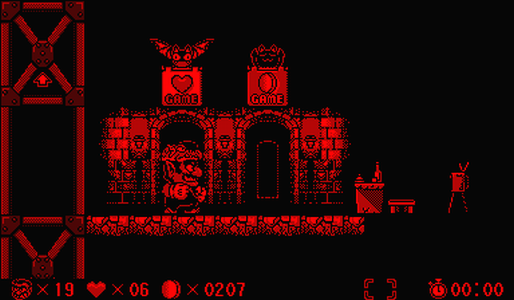 #76: Virtual Boy Wario Land
Released In: 1995
Developer: Nintendo
Publisher: Nintendo
The year was 1995 and Wario was vacationing in the Awazon river basin when he spied some strange creatures entering a waterfall. Wario followed them and discovered that there was a cave behind the waterfall that held a huge pile of treasure. The creatures tried to stop Wario from taking their treasure, but he made short work of them. Then, just as the greedy anti-hero was about to grab the treasure, the ground collapsed beneath him, sending him deep into the earth. Now it is up to you: help Wario return to the surface and grab the treasure!
Syd Lexia: This game was one part Virtual Boy Wario Land, one part Virtual Boy Wario Land, and two parts Virtual Boy Wario Land, and it was fucking great. It's also way better and a hell of a lot more colorful than those two X-Men games on the Genesis. My only complaint is that the game's title is somewhat of a misnomer.
Valdronius: Before I played this game I didn't know who Psylocke was. I still don't really know, and that really doesn't bother me.
SpamBot 5000: Lay claim to the curves in the 2010 MAZDA3. The fun you want. The practicality you need. All for less than you might think.