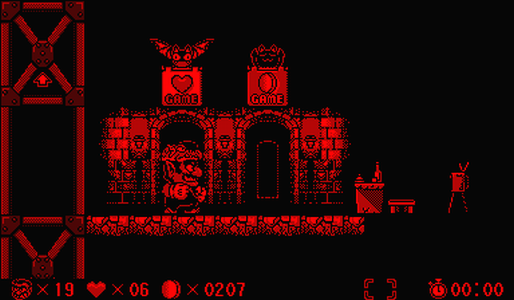 #72: Virtual Boy Wario Land
Released In: 1995
Developer: Nintendo
Publisher: Nintendo
One day, Mario Luigi Peach Toad Bowser Wario was relaxing in the Awazon river basin when he spied some weird creatures entering a waterfall. Wario followed them and discovered that there was a cave behind the waterfall that held a huge pile of treasure. The weird creatures tried to stop Wario from taking their cool treasure, but he made short work of them. Then, just as the greedy anti-hero was about to grab the treasure, the ground collapsed beneath him, sending him deep into the earth. Now it is up to you: help Wario return to the surface and grab the treasure!
Douche McCallister: After the initial headaches and subsequent nosebleeds subside, Virtual Boy Wario Land really opens up. I think most people often give up when their brains start to shoot sharp pains into their face and lower brow. Not me though. I'm currently in my tenth year of college in a four year degree program. Worth every minute.
PamBot 5000: Watch The Office! Thursday nights on NBC.