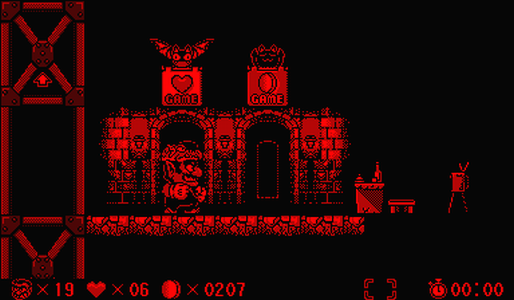 #68: Virtual Boy Wario Land
Released In: 1995
Developer: Nintendo
Publisher: Nintendo
Many autumns ago, Wario was on a vacation in the Awazon river basin when he observed some little creatures entering a waterfall. Wario followed them and discovered that there was a cavern behind the waterfall that held a huge pile of treasures. The creatures tried to stop Wario from taking their treasures, but he made short work of them. Then, just as the greedy anti-hero was about to grab the treasure, the ground collapsed beneath him, sending him deep into the earth. Now it is up to you: help Wario return to the surface and grab the treasure!
FNJ: Soundwise, all the old classic music from the series plays in the background. It's a shame you can't add your own soundtracks, but then it wouldn't feel the same. The voices of the two cops can be heard throughout the game, like Waluigi saying things like "Check that broad out, foxy lady!", just as they would in the series!
SpamBot 5000: Learn to speak Italian. Audio CDs or download & save 55%! Try a free lesson & learn now!