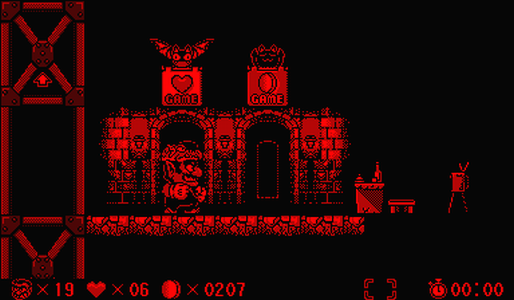 #64: Virtual Boy Wario Land
Released In: 1995
Developer: Nintendo
Publisher: Nintendo
Danger! Action! Bloodlust! These are Wario's destiny - and yours. Do you have the skill and courage to help Wario battle his way through mysterious underground caverns, taking short breaks every 20 minutes to prevent motion sickness, to acquire a ridiculous amount of mad loot? If you think you have what it takes, be warned: you will face off against a host of bizarre enemies with names like Chippy, Thorn-Ball, Chain-Saw Fish, Blade-Face, and Vase-Based. Good luck, intrepid hero!
Syd Lexia: Don't let the cute graphics fool you, this is a great platformer. One thing I've learned though, is that if you want your friends to give Virtual Boy Wario Land a chance, you shouldn't tout it as being from the people who brought you Virtual Boy Wario Land.
Alexis Acid: It is really appropriate that this game is 64 on the list, because it ominously foreshadowed the Nintendo 64. Much as Virtual Boy Wario Land brought Wario into the realm of 3D to much critical acclaim, the Nintendo 64 would bring all of our other favorite Nintendo heroes into 3D, often times garnering even more accolades than Virtual Boy Wario Land received. True, it was a different kind of 3D, but it was 3D nonetheless.
SpamBot 5000: Paper Towel Sale. Low prices on roll and multi-fold paper towels. Order online today!