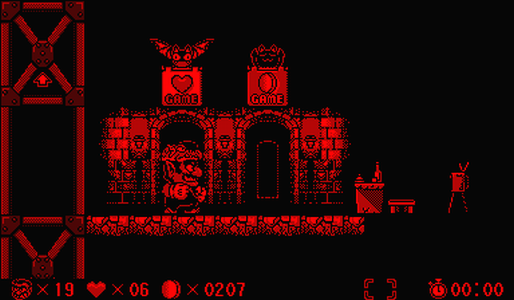 #60: Virtual Boy Wario Land
Released In: 1995
Developer: Nintendo
Publisher: Nintendo
One ordinary day, an ordinary man named Wario was on an ordinary vacation in the ordinary Awazon river basin when he spied some ordinary creatures entering an ordinary waterfall. Wario followed them and discovered that there was an ordinary secret cave behind the waterfall that held an ordinary pile of treasure. The creatures tried to stop Wario from taking their treasure, but he made short work of them. Then, just as the ordinary hero was about to grab the treasure, the ordinary ground collapsed beneath ordinary him, sending him deep into the ordinary earth. Now it is up to ordinary you: help Wario return to the ordinary surface and grab the ordinary treasure!
Syd Lexia: This game was way better than Double Dragon III, but I like don't like it quite as much as Double Dragon II. It's certainly a hell of a lot prettier though.
Alexis Acid: Ever wondered what pregnancy feels like? Play this game for an extended period of time. You'll experience most of the same side effects: morning sickness, mood swings, overpowering cravings for random foodstuffs, lactation. The only part you won't experience is the rapid, unwanted weight gain!
SpamBot 5000: Music from Jimi Hendrix is now available on Rock Band DLC!