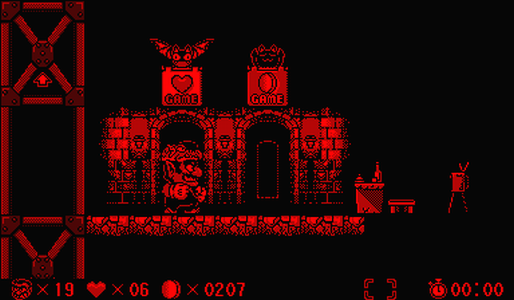 #100: Virtual Boy Wario Land
Released In: 1995
Developer: Nintendo
Publisher: Nintendo
One day, Wario was vacationing in the Awazon river basin when he spied some strange creatures entering a waterfall. Wario followed them and discovered that there was a cave behind the waterfall that held a huge pile of treasure. The creatures tried to stop Wario from taking their treasure, but he made short work of them. Then, just as the greedy anti-hero was about to grab the treasure, the ground collapsed beneath him, sending him deep into the earth. Now it is up to you: help Wario return to the surface and grab the treasure!
Syd Lexia: I can't believe this made the cut instead of Waterworld. What the hell? Look, I realize Waterworld wasn't the best movie ever, but the Virtual Boy game is surprisingly fun. I feel like the only reason the game didn't make the cut is because people hate the movie so much.
Ed: Wario Land was freaking sweet! Worth all three of the dollars I paid for it. Also, the headaches. The clever use of 2D-in-3D made the game fun without feeling like they were forcing the Virtual Boy gimmick too hard, and it added literal depth to the gameplay. You couldn't just search left and right for secrets and items -- there was essentially a whole other level upstage, and often that was the only way to get around obstacles. Virtual Boy Wario Land is early proof that even though your system has 3D capabilities, you shouldn't jettison 2D gameplay entirely. Y'know what? I should be editing Press Start 2 Continue, but I'm going to go play Wario Land instead. So there.
Rycona: During the making of Six Golden Coins, Wario spent most of his time snorting lines in the lobby closet. He would come back into the recording studio with these intense, red eyes and Shigeru Miyamoto looked beyond an obese and vulgar yellow-overalled man to see an invention which could bestow this amplified personality and sore vision to anyone at any age, the Virtual Boy.
SpamBot 5000: Do NOT pay for white teeth!! Learn the trick discovered by a mom to turn yellow teeth white for under $10.