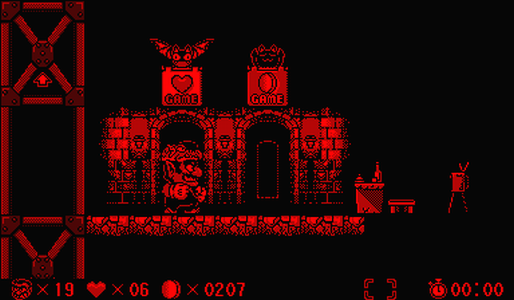 #86: Virtual Boy Wario Land
Released In: 1995
Developer: Nintendo
Publisher: Nintendo
Virtual Boy Wario Land is a video game released by Nintendo for the Virtual Boy in 1995. It is the second installment in the Wario Land series.

The game begins with Wario landing his Bulldog airplane in the middle of the Awazon River's basin for some relaxation time. The vacation comes to an end however when he spots three Mask-Guys heading behind one of the Awazon's waterfalls carrying treasure. Interested in claiming the treasure for himself, Wario follows the trio into their secret cavern, but is soon surprised by a trap door which plunges him into the underground chasms below. Now caught in a deep underground labyrinth, Wario swears to seek out his revenge and claim the treasure from the Mask-Guys.

- Super Mario Wiki
Syd Lexia: This game is pretty much exactly like Konami's Jackal, only you're Wario instead of a jeep, you're in the Awazon instead of Vietnam, you don't rescue hostages, and there aren't any guns. OK, so it's nothing like Jackal. Fuck you!
SpamBot 5000: Zoosk is a fun application that allows you to socialize and connect with like-minded people.