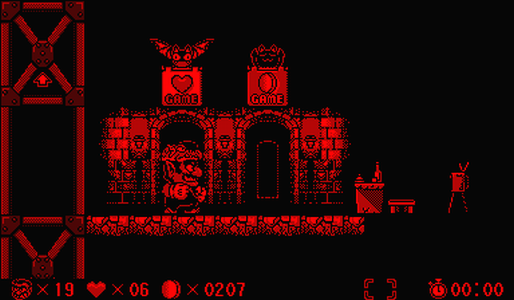 #85: Virtual Boy Wario Land
Released In: 1995
Developer: Nintendo
Publisher: Nintendo
One day, Wario was vacationing in the Awazon river basin when he spied some Mask-Guys entering a waterfall. Wario followed them and discovered that there was a cave behind the waterfall that held a huge pile of treasure. The Mask-Guys tried to stop Wario from taking their treasure, but he made short work of them. Then, just as the greedy anti-hero was about to grab the treasure, he accidentally activated a trap, sending him deep into the earth. Now it is up to you: help Wario return to the surface and grab the treasure along the way! Make sure that you see the game image in the Virtual Boy display clearly. If the image is fuzzy, adjust the FOCUS slider right or left until the image is sharp and clear.
Syd Lexia: It should come as no surprise to you there were a bunch of video games that were released on both the Genesis and the Virtual Boy. However, you may be surprised to learn that Virtual Boy Wario Land was not one of them. While it's true that games named Virtual Boy Wario Land were released for both systems, they are completely different games. The Genesis game was developed by Virgin Interactive, published by Sega, and featured sprites designed by some of Disney's animators. The Virtual Boy version was done entirely by Nintendo. The Sega version is generally held in much higher regard, largely due to Disney's involvement in the project, but the Nintendo version is a good game in its own right. Think back to the NES days, did a Nintendo-produced game ever disappoint you? Of course not, and neither will this. What's that? You've played Baseball? Well, fuck.
Kris Lexia: Syd! I ate the last few Cadbury eggs. Please get more.
SpamBot 5000: Want to build muscle? Try Force Factor today to see dramatic results. Limit one per household.