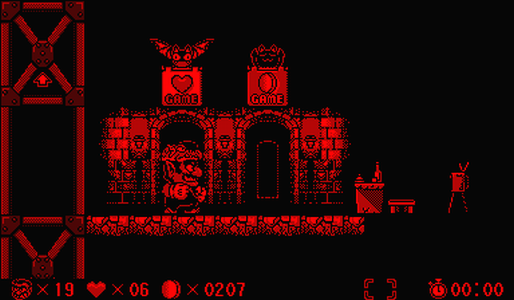 #79: Virtual Boy Wario Land
Released In: 1995
Developer: Nintendo
Publisher: Nintendo
A long time ago, Wario was relaxing by a river basin in the Awazon jungle when he saw some ugly critters entering a waterfall. Wario followed them and discovered that there was a cave behind the waterfall that held a sizeable pile of treasure. The critters tried to stop Wario from taking their treasure, but they were no match for his size and power. Then, just as the greedy Wario was about to take their treasure, a trapdoor flew open, sending him deep into the earth. Now it is up to you: help Wario return to the surface and grab the treasure!
Douche McCallister: This game changed my life. It was also the first and last time Wario did anything successful with his life. By "successful", I mean make the player hate him. After playing Wario Land for about 8 minutes he singlehandedly ruined any chance of me wanting to play any Mario game on the Virtual Boy ever again. Congrats Wario, you win.
SpamBot 5000: Sometime in the past you signed up at one of our Disney Universal theme park ticket sites. Based on the information you supplied at the time you signed up you have been selected to receive an all inclusive ten day Disney package for free. This package includes everything you will need for up to five people to have the ultimate vacation at Disney. We have ten of these packages left. They must be given away ASAP, before the end of the year, before we lose them. We have sent emails to twenty people. The first ten to sign up will receive this complete package. Please submit your registration code and your information on where you would like your tickets shipped. Someone will call you to work out all the travel details and itinerary. It's time to pack your bags and get ready to go on vacation.