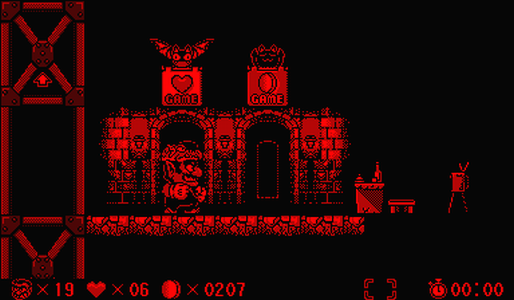 #77: Virtual Boy Wario Land
Released In: 1995
Developer: Nintendo
Publisher: Nintendo
One day, Wario was vacationing in the Awazon river basin when he spied some dudes entering a waterfall. Wario followed them and discovered that there was a cave behind the waterfall that held a huge pile of treasure. The dudes tried to stop Wario from taking their treasure, but he made short work of them. Then, just as the greedy anti-hero was about to grab the treasure, the earth collapsed beneath him, sending him deep into the ground. Now it is up to you: help Wario return to the surface and grab the treasure!
Syd Lexia: This game was the Virtual Boy's answer to Sonic the Hedgehog. Plagued by constant accusations from Sega that the Virtual Boy hardware couldn't run something as fast as Sonic, Nintendo created this. Why Nintendo would want to compete with a game where all you do is hold right on keypad and occasionally jump is beyond me, but it doesn't matter; Virtual Boy Wario Land is a great game. It's the sort of concept that SHOULDN'T work, but somehow it does. This is one of those games that when you see it sitting on a store shelf, you roll your eyes, snicker, and walk away. Then one of your friends forces you to play it and you're absolutely stunned at how much fun it is.
Valdronius: I'd like to start off by stating how incredibly pissed off I am that Virtual Boy Wario Land is only #77. In my opinion this game is top ten material, and arguably the best racing game on the system. It looked amazing and the music rocked.
SpamBot 5000: Unicycles - Free Shipping! Unicycles in 12, 16, 18, 20, 24, 26 & 28 inch wheels, all on sale!