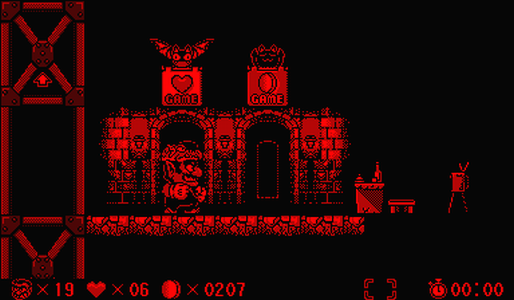 #56: Virtual Boy Wario Land
Released In: 1995
Developer: Nintendo
Publisher: Nintendo
Yeah, so Wario was vacationing in the Awazon river basin when he noticed some freaky dudes entering a waterfall. Wario followed them and discovered that there was a cavern behind the waterfall that held a giant pile of treasure. The freaky dudes tried to stop Wario from taking their treasure, but he beat the crap out of them. Then, just as Wario was about to make the treasure his, the ground collapsed beneath him, sending him deep into the earth. Now it is up to you: help Wario return to the surface and grab the treasure!
Cameron: You know, I see what Nintendo was trying to do with the red graphics. When Wario slams his body against giant floating bricks, money pops out; when I slam my body against giant floating bricks, everything looks like this.
Kris Lexia: Today was sadly not a fairy tale.
SpamBot 5000: Rare Korean Toys! New exhibition at The Korea Society Gallery open free to the public.