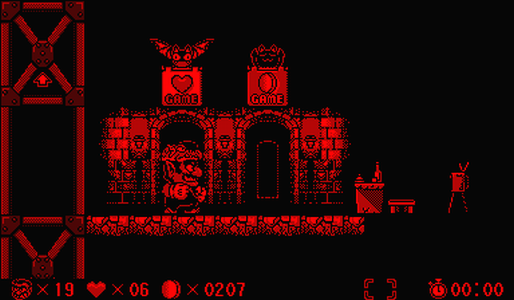 #53: Virtual Boy Wario Land
Released In: 1995
Developer: Nintendo
Publisher: Nintendo
One fine day, Wario was relaxing in the Awazon river basin when he observe some Mask-Guys entering a waterfall. Wario followed them and discovered that there was a cave behind the waterfall that held a noticeably large pile of treasure. The Mask-Guys tried to stop Wario from taking their treasure, but he made short work of them. Then, just as the greedy hero was about to grab the treasure, the ground collapsed beneath him, sending him deep into a maze below. Now it is up to you: help Wario return to the surface and grab the treasure!
Syd Lexia: This game is cute but evil, compassionate but unforgiving. Kind of like Jesus Christ.
Murdar Machene: Bite me, dumpy.
SpamBot 5000: Hotmail, your email and more on-the-go! Get Windows Live Hotmail free.