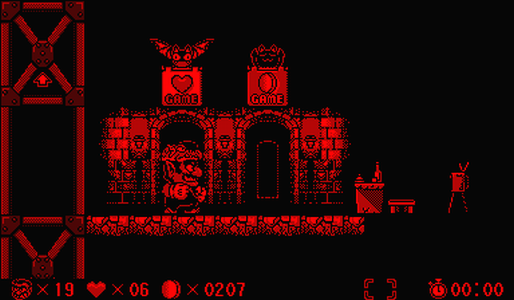 #49: Virtual Boy Wario Land
Released In: 1995
Developer: Nintendo
Publisher: Nintendo
One dubious day, a dubious man named Wario was dubiously vacationing in the dubious Awazon river basin when he dubiously spied some dubious creatures entering a dubious waterfall. Wario dubiously followed them and discovered that there was a dubious cave behind the dubious waterfall that held a dubious pile of treasure. The creatures dubiously tried to stop Wario from taking their dubious treasure, but he made dubiously short work of them. Then, just as the dubious -hero was about to grab the treasure, the ground dubiously collapsed beneath him, sending him dubiously deep into the earth. Now it is up to you: help Wario return to the surface and grab the dubious treasure!
Syd Lexia: Virtual Boy Wario Land proves once and for all that creationist theory and evolution can peacefully coexist, something that those morons in Kansas can't quite seem to grasp. Despite being very weird, this game plays like a traditional action-oriented platformer: you go around killing enemies and grabbing loot, and there's a boss battle every so often. The gameplay is somewhat repetitive, but the overall concept is incredibly unique and creative.
SpamBot 5000: Eat, drink, play and join your friends at Dave & Buster's: specialists in happy hour, corporate events, and the famous Power Hour gaming/dining special.