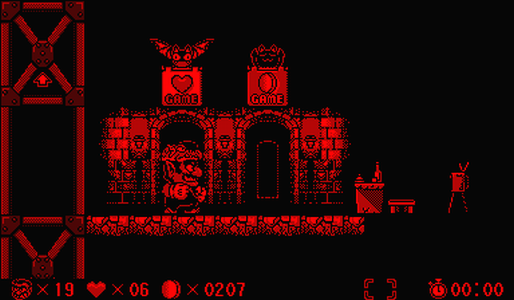 #45: Virtual Boy Wario Land
Released In: 1995
Developer: Nintendo
Publisher: Nintendo
One sunny day, Wario was resting in the Awazon river basin when he spied some odd creatures entering a waterfall. Wario followed them and discovered that there was a spooky cave behind the waterfall that held a pile of treasure. The creatures tried to stop Wario from taking their treasure, but he made short work of them. Then, just as the greedy Wario was about to grab the treasure, the ground collapsed beneath him, sending him deep into the earth. Now it is up to you: help Wario return to the surface and get the treasure!
Valdronius: I bought this game with the money I received for selling Phalanx, Super Ninja Boy, and some football game. Seeing as none of those games are on this list, I guess I made a good buy. Like many others, I bought this game assuming it was somehow related to Virtual Boy Wario Land. While the interface is largely similar, there is no connection, aside from the Nintendo logo. The games weren't even made in the same hemisphere, let alone by the same people. Nevertheless, I love this game.
SpamBot 5000: IKEA.com, featuring Scandinavian modern style furniture and accessories. Includes storage options, lighting, decor products, kitchen appliances and pet care.