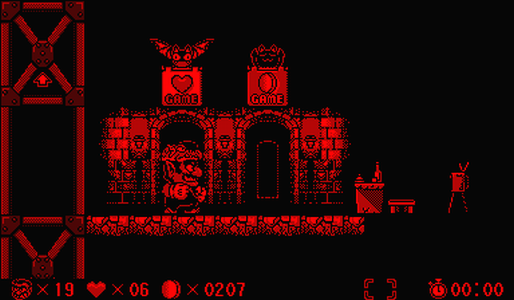 #41: Virtual Boy Wario Land
Released In: 1995
Developer: Nintendo
Publisher: Nintendo
Wario was on a vacation in the Awazon river basin, yeah? And he saw some little creatures entering a big waterfall, yeah? Wario followed them and discovered that there was a cave behind the waterfall that held a nice pile of treasure, yeah? The creatures tried to stop Wario from taking their treasure, but he made short work of them, yeah? Then, just as the greedy Wario was about to grab the treasure, the ground collapsed beneath him, sending him deep into the earth, yeah? Now it is up to you: help Wario return to the surface and grab the treasure! Yeah!
Syd Lexia: This game has often been characterized as a cheap attempt by Nintendo to cash in on the success of Sonic The Hedgehog. It's not, but it's about 70% as good. And anything that's 70% as good as one of the most ridiculously awesome games ever made is still pretty damn awesome. I mean, come on, it's a Nintendo platformer where you get to fly and breathe fire. If takes more than that to sell you on a video game, then you, my friend, are not a gamer; you are a goddam charlatan.
Kris Lexia: I'd really like to see Lady Gaga live. Help me out, guys.
SpamBot 5000: Lady Gaga 2009-2010 Tour. Find tickets to Lady Gaga shows. Get free alerts for new concerts.