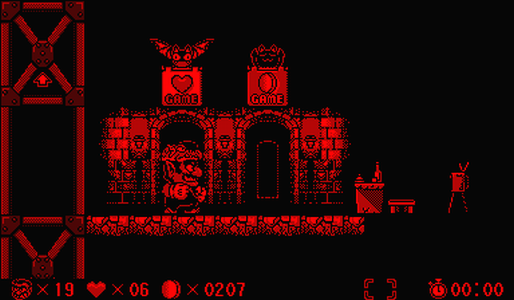 #34: Virtual Boy Wario Land
Released In: 1995
Developer: Nintendo
Publisher: Nintendo
Wario very much likes treasure. You very much like Wario. So join him, now, on the single greatest action/platform story ever told entirely in red and black. No monochromatic adventure made thus far has come anywhere close to being as truly epic as Virtual Boy Wario Land, and it is increasingly unlikely that one will ever surpass it. So throw away your worn old copy of Mario's Tennis and track down this game instead. It's significantly better.
Valdronius: Part of the appeal of this game was the fact that it came in a cartridge. How awesome is that? It was more violent than the Street Fighter series, but not quite so violent as Mortal Kombat. I was never really good at Wario games, but I could actually hit fairly big combos with Wario. Once, I even accidently pulled off Wario's combo finisher. Did I mention I suck at Wario games?
SpamBot 5000: Sandra Bullock's marriage, Jesses James, STDs and fertility. Understand more at The AFA's blog.