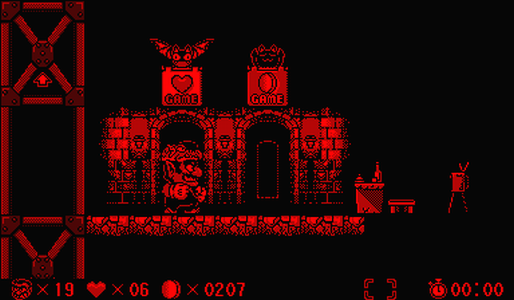 #27: Virtual Boy Wario Land
Released In: 1995
Developer: Nintendo
Publisher: Nintendo
One day, Wario was on holiday in the Awazon river basin when he saw some creatures disappear into a large waterfall. Wario followed them and discovered that there was a hidden cave behind the waterfall that housed a gigantic pile of treasure. The creatures tried to stop Wario from taking their treasure, but he made short work of them. Then, just as the super greedy anti-hero was about to grab the treasure, the ground collapsed beneath him, sending him far into the earth. Now it is up to you: help Wario return to the surface and grab the treasure!
Valdronius: I'm pretty sure this game was designed tongue-in-cheek to cater to a small niche of B-Movie fans. What it turned out to be was an absolutely addicitive video game. Despite having an insane number of levels, and being near impossible to beat, the game kept from getting stale with varied level designs and lots of different enemies that ranged from campy to cool. There were also a lot of different weapons and items, some of which would even turn you into an unstoppable zombie-bashing monster. I beat this game twice on my Virtual Boy console, an accomplishment so impressive, I'm considering it for my epitaph.
Congratulations: You have just discovered the secret message. Please send your answer to Dr. Jeebus, care of the Funny Farm, Chalfont.
SpamBot 5000: IGN is the ultimate BioShock resource for trailers, screenshots, cheats, walkthroughs, release dates, previews, reviews, soundtracks and news.