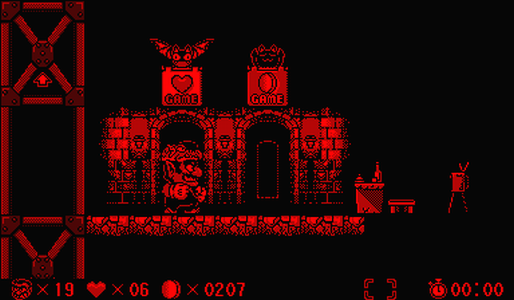 #25: Virtual Boy Wario Land
Released In: 1995
Developer: Nintendo
Publisher: Nintendo
I, Wario, have an interesting story to tell. One day during my vacation in the Awazon river basin, I landed my trusty seaplane, Bulldog, and decided to relax in the shadow of the beautiful Aldegara Waterfall. While basking in the sun, I spied some strange creatures with masks entering the waterfall. This piqued my interest!

I hurried over and followed them into the waterfall. Behind the falls there was a large cave, and in the back of the cave ... there was a vault filled with a glorious mountain of treasure!!

Some of the masked creatures jumped me, but I quickly overcame them. "This treasure is all mine now!", I thought to myself and rushed in to collect the loot. Suddenly, the floor collapsed and I fell!

I found myself deep within the Earth! I was quite angry and vowed revenge on these creatures, "I will get their treasure!!!"

- Wario, Master Of Disguise
Syd Lexia: I like this game a lot, but level navigation can be somewhat frustrating. It's not always clear where you're supposed to go and, in some of the levels, every fucking hallway starts to look the same.
SpamBot 4000: Work with babies! Ultrasound uses high-frequency sound waves to look at organs and structures inside the body. Health care professionals use them to view the heart, blood vessels, kidneys, liver and other organs. During pregnancy, doctors use ultrasound tests to examine the fetus. Unlike x-rays, ultrasound does not involve exposure to radiation. To find out more about this exciting field, visit the links below.