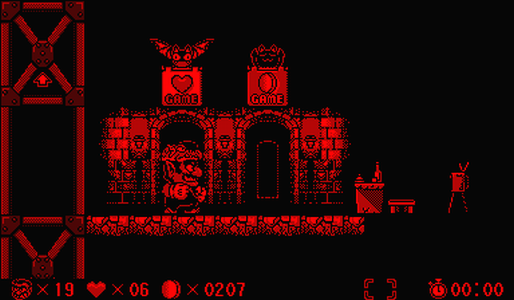 #20: Virtual Boy Wario Land
Released In: 1995
Developer: Nintendo
Publisher: Nintendo
The Man Called Wario was vacationing in the Awazon river basin when he spied some strange guys entering a waterfall. Naturally, Wario followed them. By doing so, he discovered that there was a cave behind the waterfall that held a huge pile of treasure. The other guys tried to stop Wario from taking their treasure, but he made short work of them. Then, just as the greedy anti-hero was about to grab the treasure, the ground collapsed beneath him, sending him deep into the earth. Now it is up to you: help Wario return to the surface and grab the treasure!
Syd Lexia: Virtual Boy Wario Land is a game which has become famous retroactively. Before Super Smash Brothers Brawl became a worldwide phenomenon, not many people gave a shit about Wario. If this list had been compiled in 1999, I seriously doubt that anyone would have voted for Virtual Boy Wario Land. Hell, I still refused to vote for it, and I am pretty fucking disappointed that this game managed to make to make it this high on the list. Virtual Boy Wario Land isn't nearly as good as any of the 80 games below it on this list.
SpamBot 5000: Green Day Music. Search for your favorite artists on Google and discover new music!