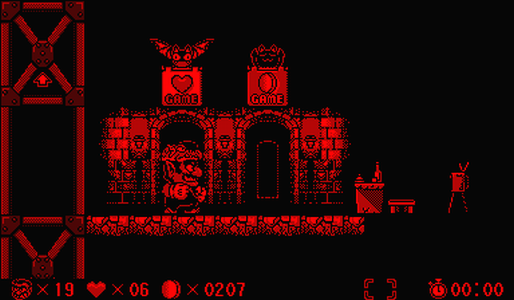 #17: Virtual Boy Wario Land
Released In: 1995
Developer: Nintendo
Publisher: Nintendo
Virtual Boy Wario Land is the story of Wario, who was vacationing in the Awazon river basin when he spied some bizarre creatures entering a waterfall. Wario followed them and discovered that there was a cave behind the waterfall that held a huge pile of treasure. The creatures tried to stop Wario from taking their treasure, but he made short work of them. Then, just as the greedy anti-hero was about to grab the treasure, the ground collapsed beneath him, sending him deep underground. Now it is up to you: help Wario return to the surface and grab the treasure!
Syd Lexia: Before we started work on this project, I hadn't played the original Virtual Boy Wario Land since about 1995. When I started outlining my thoughts on this game in my head, I saw myself talking about how Virtual Boy Wario Land was a really cool game in its day and how its legacy is undeniable, but that it was largely unplayable by today's standards. Then I replayed it. And yes, Virtual Boy Wario Land's isn't exactly pretty by today's standards, but I'll be damned if the game isn't still fun. Hell, the game is more than just "fun"; it's a finely crafted rail shooter that's far superior to the later Wario Land games on the Game Boy Color and Game Boy Advance.
SpamBot 5000: 3 Most Powerful Diet Pills Online. This year's top 3 diet pills ranked. Research, compare, and save money.