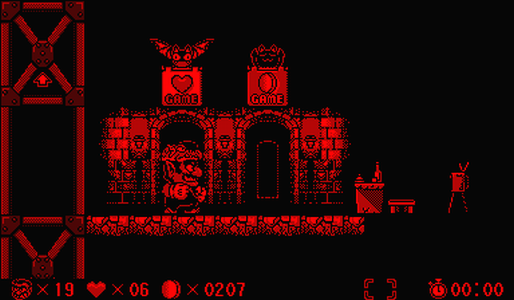 #15: Virtual Boy Wario Land
Released In: 1995
Developer: Nintendo
Publisher: Nintendo
Wario Land for the Virtual Boy was released by Nintendo for its largely unsuccsessful Virtual Boy system in 1995. It stars Wario in a platforming adventure quite similar to most of his other starring roles. It begins when he finds a huge treasure in a cave behind a waterfall after tracking a group of masked monsters that he discovered after waking up from a nap. After attempting to take the treasure, a trap is sprung, and Wario ends up plummeting miles into the ground into a huge underground labyrinth. It's up to you as the player to help him escape.

As stated, Wario Land for the Virtual Boy is very similar to Wario's other platforming roles. As in the original Wario Land, Wario can collect different hats to give himself new abilities. For example, the Dragon Hat lets him spew fire at his enemies, while the Bull Helmet makes his shoulder charge move more powerful. Also, as in other Wario games, you have the opportunity to find different treasures hidden around the stages to increase your overall score. There are also a few games located between stages that you can play to increase your score.
- Wikipedia, older edit
Syd Lexia: For years, I couldn't remember what this game was called, only that the end boss was an enormous scary genie. Thanks to the magic of the internet, I was eventually able to track it down. Despite its rather silly storyline, this is a pretty solid game. Unfortunately, most of the bosses are terrible.
SpamBot 5000: Umbilical Cord Banking. Learn about cord blood storage. Invest in your family's health now!