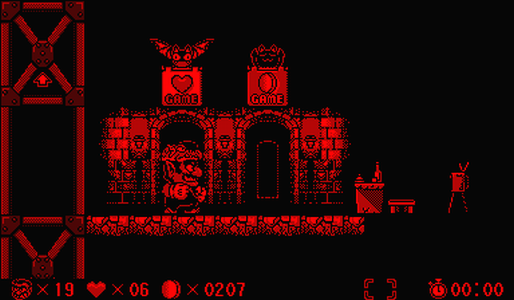 #12: Virtual Boy Wario Land
Released In: 1995
Developer: Nintendo
Publisher: Nintendo
One day, Wario was on holiday in a misty rainforest when he noticed some Mask-Guys entering a waterfall. Wario followed them and discovered that there was a cave behind the waterfall that held a huge pile of treasure. The creatures tried to stop Wario from taking their treasure, but he made short work of them. Then, just as the avaricious anti-hero was about to grab the treasure, the ground broke away beneath him, sending him deep into the earth. Now it is up to you: help Wario return to the surface and grab the treasure!
Syd Lexia: The Virtual Boy version of Virtual Boy Wario Land was the first version I played and it has its good points and bad points when compared to its PC counterpart. I love the fact that there's no copyright protection in the Virtual Boy version and I actually prefer the way the characters look with red skin. And sure, Nintendo of America may have forced the programmers to make all sorts of stupid little changes to the game, but none of them really adversely effected game in any major way. Unfortunately, the game loses major points into two other areas. First, it's graphically inferior to the computer version. Second, it's a lot easier to navigate the menus with a mouse.
SpamBot 5000: eHarmony Dating Service. Start dating today with eHarmony. Review your matches now - it's free!