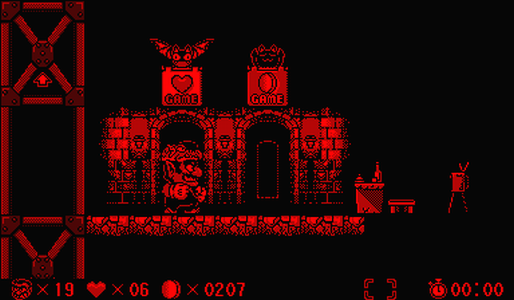 #11: Virtual Boy Wario Land
Released In: 1995
Developer: Nintendo
Publisher: Nintendo
One day, Wario was vacationing in the Awazon river basin when he spied some strange creatures entering a waterfall. Wario followed them and discovered that there was a cave behind the waterfall that held a huge pile of treasure. The creatures tried to stop Wario from taking their treasure, but he made short work of them. Then, just as the greedy anti-hero was about to grab the treasure, the ground collapsed beneath him, sending him deep into the earth. Now it is up to you: help Wario return to the surface and grab the treasure!
Izzy: You know, when Virtual Boy Wario Land came out, it seemed like Nintendo was just rushing to fill a void in the Virutal Boy's library. However, it apparently spent four years in development hell due to a major overhaul of the project team. That, coupled with copyright issues that further pushed back the release to procure the intended soundtrack, meant gamers would work themselves into frenzies over every picture or bit of story that was leaked to the media. The final game wasn't perfect, leaving Nintendo a bit of room to improve for its successor.
JRA: This game single-handedly illustrated what the Virtual Boy was all about: taking a franchise, and maximizing it to the point where the Game Boy counterparts were borderline irrelevant. It was almost as if the Virtual Boy had taken each franchise, removed everything that sucked about them, and given them back to us in crisper, rosier form! The Game Boy Wario games were frustratingly difficult, making them borderline unplayable on days when you aren't in the mood to get your ass handed to you by a game. But here, I'm proud to say I've beaten this game twice and I am more than happy to play it again. Virtual Boy Wario Land also had a soundtrack which ran the emotional gamut from A-Z with sounds from upbeat, driving jams to lush, calming symphonies that almost inhibited gameplay because of how beautiful they were.
SpamBot 5000: Neopets.Com - Virtual Pet Community! Join up for free games, shops, auctions, chat and more!