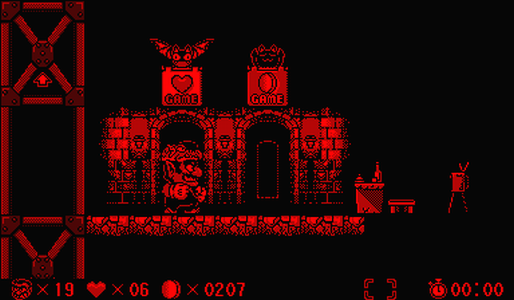 #7: Virtual Boy Wario Land
Released In: 1995
Developer: Nintendo
Publisher: Nintendo
One day, Wario was vacationing in the Awazon river basin when he observed three creatures entering a waterfall. Wario followed them and discovered that there was a cave behind the waterfall that contained a huge pile of treasure. The creatures tried to stop Wario from taking their treasure, but he made quick work of them. Then, just as the greedy anti-hero was about to grab the treasure, the ground collapsed, sending him deep into the earth. Now it is up to you: help Wario escape the underground caverns and grab the treasure!
Izzy: Think of the most gorgeous simulated world you can think of, surrounded by interactive characters that slowly change their reactions to you as you make choices that set you down a path of light… or darkness, think of advanced enemies who team together using actual military tactics to stop you, a setting with changing weather patterns that actually effects what you can accomplish in the game. Do you have that thought in your head? Well throw it in the toilet because this game takes it to an entirely different level. Virtual Boy Wario Land uses 3D graphics to put you into a world with enemies that actually stand in your way! It took me 4 hours just to figure out the basic physics of this game, and that doesn't include the time I spent reading the manual! I mean there are other great games on this system, like Virtual Boy Wario Land, but Virtual Boy Wario Land was the first game that really gave us an understanding of what this machine was capable of.
SpamBot 5000: Michael Jackson's death! Don't miss the details about His last days and surprising death!