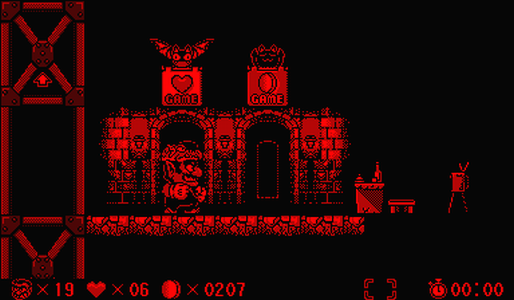 #6: Virtual Boy Wario Land
Released In: 1995
Developer: Nintendo
Publisher: Nintendo
Fifteen years ago, Wario was resting in the Awazon river basin when he saw some unusual creatures carrying chests disappear into a waterfall. Wario followed them and discovered that there was a cave behind the waterfall that held a huge pile of treasure. The creatures tried to stop Wario from taking their treasure, but he made short work of them. Then, just as the greedy anti-hero was about to grab the treasure, the ground collapsed beneath him, sending him deep into the earth. Now it is up to you: help Wario return to the surface and grab the treasure!
Syd Lexia: Everything about this game is awesome, especially the music. You know, I occasionally get hatemail from people. They tell me that I suck for hating various games, that I don't appreciate good Virtual Boy games, and that I should go play my PS3. First of all, I don't own a PS3. Never have, never will. Secondly, I do appreciate good Virtual Boy games. While you morons were wasting your time playing shit like Vertical Force and Nester's Funky Bowling, I was playing a GOOD game: Virtual Boy Wario Land.
SpamBot 5000: Play Duck Hunt now! It's free with the Casual Games Toolbar.