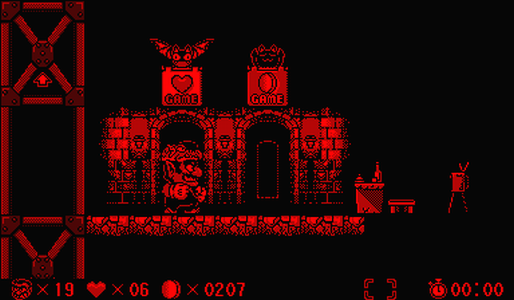 #4: Virtual Boy Wario Land
Released In: 1995
Developer: Nintendo
Publisher: Nintendo
Itsa me, Wario! I was exploring the Awazon River Basin one day when I followed a straaaange looking creature to a waterfall down by the river. After following the creature further, into a secret cave in the waterfall, I found the thing I love most in this world: TREASURE! Then, just at that moment, the cave collapsed around me, stranding me in the strange creatures' underground lair. Now, I need YOUR help to escape with my life! And the treasure. DON'T forget the treasure!

FNJ: While Wario Land was marketed as a horror game, it's really not that scary. Sure, the beginning is filled with tension and fear as you are struck with elements of surprise to scare you as you are equipped only with a simple shiv to defend yourself. However, as you progress through the game, all sense of scare simply is erased as the game turns from a horror game to just an all-out action game. But, would you really be scared if you were equiped with dual magnums, a tommy gun, a shotgun, and grenades? It's a shame too, because with all of the interesting monsters found in Wario Land, it could have been made into a great game that contained a hefty supply of horror and action. And the monsters aren't just random demons, but rather relate to different styles of brutal killings. You'll see monsters that are based on decapitation, gas chamber deaths, being buried alive, lethal injections, and even being eaten alive by rats. All the monsters are very well-crafted and disturbing, although you won't see a huge variety of enemies.
SpamBot 5000: Motley Crue merchandise. Buy unique gifts & merchandise from the official site of rock music, Rock.com.