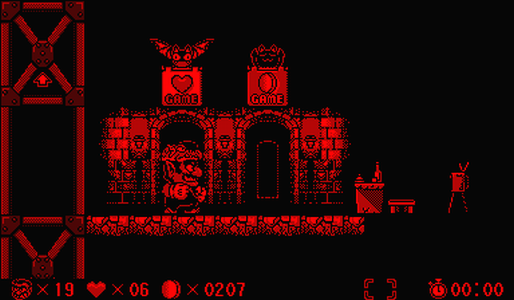 #3: Virtual Boy Wario Land
Released In: 1995
Developer: Nintendo
Publisher: Nintendo
One day, Wario was vacationing in the Awazon river basin when he spied some strange creatures entering a waterfall. After a little exploration, Wario discovered a super secret hidden cave behind the waterfall with treasure hidden inside. The creatures tried to stop Wario from taking their treasure, but he made short work of them. Then, just as the greedy anti-hero was about to grab the treasure, the ground collapsed beneath him, sending him deep into the earth. Now it is up to you: help Wario find his way out of the underground and grab the treasure!
Syd Lexia: It's not quite as good as Wario's later platform efforts, but it's still absolutely fantastic. It was the last really exciting game released on the Virtual Boy, as well as the last good game Nintendo made for a Nintendo system. Hey Nintendo, enough with that stupid Wii Play, Wii Music, Wii Sports bullshit, okay? Try giving us Nintendo fanboys a REAL game to play on the Wii.

Ed: I really dig the music in Virtual Boy Wario Land -- it's simple but effective. It also has major shades of Super Mario Land 2, which is no bad thing. It should come as no surprise, though, as the soundtrack was composed by the same guy, Kazumi Totaka. (Totaka was later immortalized in Animal Crossing by being the basis for Totakeke, aka K.K. Slider.) He's also known for sneaking a signature 19-note tune into all of his games as an Easter egg. Wario Land is no exception; it can be heard on the "END" screen if you wait long enough.
SpamBot 5000: SydLexia.com presents SydLexia.com's The 100 Best NES Games Ever featuring Syd Lexia and friends. Only at SydLexia.com.