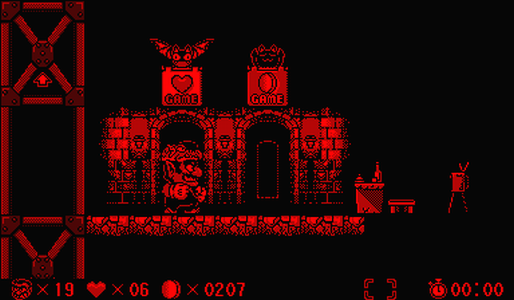 #2: Virtual Boy Wario Land
Released In: 1995
Developer: Nintendo
Publisher: Nintendo
One day, Wario was vacationing in the Awazon river basin when he spied a waterfall with some strange creatures in it. Wario followed them and discovered that there was a huge pile of treasure in a cave behind the waterfall. The creatures tried to stop Wario from taking their treasure, but he made short work of them. Then, just as the greedy anti-hero was about to grab the treasure, the ground collapsed beneath him, sending him deep into the earth. Now it is up to you: help Wario return to the surface and grab the treasure!
Syd Lexia: This game was insanely close to taking the #1 slot, and it would have been an exceedingly worthy candidate for that honor. Certainly, the gaming experience it provides is nothing short of orgasmic. With its quirky gameplay, phemonenal graphics, amazing music, and jaw-dropping boss battles, this game is nothing short of perfect. When people accuse Nintendo of making nothing but kiddie games, kindly point them to Virtual Boy Wario Land. It's as intense and adult as any game needs to be.
Ed: Did you ever see that commercial for Wario Land? You know, this one? Pretty great. I really miss old video game commercials -- particularly the ones with live action segments (my favorite being the Japanese Super Metroid commercial). This one cheats a little by having an animated Wario (and what is with his VOICE?? A cheapo Chris Latta?), and he kinda looks like he should be the archnemesis of the Cinnamon Toast Crunch chefs, not Mario. But I dug the music and the way the trailer voice guy played it serious. Sadly, the commercial was quickly pulled due to copyright infringement claims by The Joker's lawyers.
Valdronius: If you want to talk about atmosphere in a video game, Virtual Boy Wario Land defined the term for the Virtual Boy. The dark, subtle background music gave an indelible sense of isolation while inside planet Zebes. Combine that with flawless gameplay and it's no wonder this game comes in as high as it does. The only bad thing I will say about this game is that the final battle with the Awazon Genie was far too easy.
SpamBot 5000: Press Start 2 Continue! Slated for a 2010 DVD release, Press Start 2 Continue reunites the creative team behind Press Start and follows the further adventures of heroes Zack, Sam, and Lin-Ku!