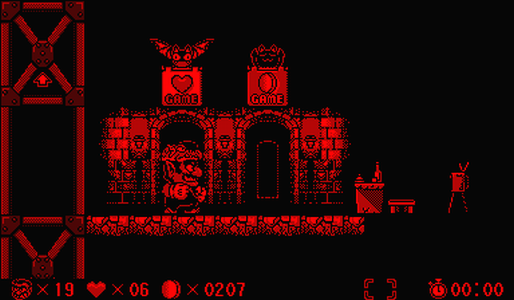 #1: Virtual Boy Wario Land
Released In: 1995
Developer: Nintendo
Publisher: Nintendo
Wario's second full adventure follows his exploits in the black and red monochrome world of the Virtual Boy, as he searches for treasure in the Awazon river basin. On his way to an eventual showdown with the Awazon Genie, Wario will fight a wacky host of enemies that include Mask-Guy, Bomb-Bat, Blade-Face, Mastah Mosquito, Honey-Bee, Thorn-Ball, Vase-Based, Chippy, Coo-Coo, and Dark Tortoise, whom he will defeat by taking the forms of a bull, an eagle, and two different dragons. Virtual Boy Wario Land is not only the best game on the Virtual Boy Grsystem, but a great game in general. This is a true classic that can be enjoyed by players of all generations. When the batteries get low, the indicator will light up and flash on the bottom of the screen. Please change the batteries as soon as possible.
Syd Lexia: I absolutely love this game, in a completely unhealthy obsessive way. Back when I was in eight grade, I had to leave for school at seven in the morning, so I'd shower before I went to bed and then get up at five and play Virtual Boy Wario for two hours, completely skipping breakfast. Then I'd come home and play it some more, occassionally stopping for dinner and homework, or because my stupid brother thought he deserved a turn. Not only did I find fucking EVERYTHING in that game, but I ended up with a 3.6 GPA that term.
Ed: I remember that back in the day, Nintendo Power used to feature comics in each issue. When Super Metroid was released, there was a fantastic Metroid graphic novel that spanned several issues. Ditto with Star Fox. And then, abruptly, they stopped doing that. As a little kid who wanted my damn comics, however, I wrote a letter to Nintendo Power. Amazingly they responded, informing me that a new comic was coming up soon. And sure enough, the very next issue had a comic in which Mario and Wario were vying for the affections of Princess Toadstool. I recall that the Princess wanted a Samus plush doll she saw in a store window, and the two fought over who was going to get it for her. I don't quite remember how it went from there, but probably they were so busy fighting that Yoshi got the doll for her or something. Anyway, why are you reading this? This has nothing to do with Virtual Boy Wario Land, which is a sweet game. Go play that.
Alexis Acid: I highly approve of this game's bold black and red palette, as well as its use of a legally distinct protagonist who resembles Mario. My biggest complaint is that the game does not contain the cryptic old men from The Legend of Zelda. I also really wish there was some white in the game's color palette, because that would really accent the black and red. Other than that, this game is practically flawless.
Valdronius: It should come as no surprise to anyone that this grabbed the top spot. A masterpiece among video games, it provides a fun challenge for all players without being frustratingly difficult. There were really no levels that couldn't be cleared with practice. the graphics, sound, and play control are all excellent, and each level is unique. The various magical items, such as the dragon crystal and Viking helmet, along with the bonus games, and the black and red chic all add to the overall fun factor; it never disappointed. I'd say that anyone who has played this game would rank it in their Top Five at least, if not Top Three.
Kris Lexia: Wario's moustache still looks like french fries. I am going to eat it.
Dr. Jeebus: There's little that needs to be said about one of the all-time greatest games ever. I could write pages on this, but anyone who would bother to read this site has played the game, so you already know how awesome this game is.
SpamBot 5000: TNA Wrestling presents Lockdown live on PPV on Sunday, April 18, at 8 PM ET. The show will be taking place at the Family Arena in St. Louis, MO.