Mega Man Mania Part II: Robot Masters M-Z

Welcome to the second part of my feature on the Robot Masters from Mega Man 1-7. Get ready to meet some more bizarre robots that were built and/or stolen by the nefarious Dr. Wily. There will be amphibians, vampires, transformers, Japanese emperors, and even an evil Slinky. Are you ready? No you're not. Nothing can prepare you for the following stupidity. Full disclosure: there are no Robot Masters listed here that actually start with the letter Z. So this is actually Robot Masters M-Y. There's nothing starting with O, U, V, or X either. And there was nothing for L on the last page. My point is this... I don't know. Fuck you. Keep reading.
Name: Magnet Man
Game: Mega Man 3
Primary Weapon: Magnet Missile
Description: Nothing fucks up electronics like magnets. Don't believe me? Stick a moderately powerful magnet on your television screen or computer tower and it won't take long for you to regret it. This means that Magnet Man a dangerous enemy, but it also makes him somewhat paradoxical. How the hell can a robot with a giant magnet on his head keep working? Capcom obviously didn't think about this very carefully and I don't see why I should either.

Arbitrary Coolness Rating: 7
Name: Metalman
Game: Mega Man 2
Primary Weapon: Metal Blade
Description: Anything with metal in the name is automatically cool, unless "metal" is preceded by nü, alt, or rap. In this case. we're talking about Metalman, a Robot Master who vaguely resembles a doctor. Metalman's primary weapons are giant saw blades; you can't get much more metal than that. In fact, Metalman is so metal that he makes Manowar look like Phil Collins. In conclusion, saw blades + metal = awesome.

Arbitrary Coolness Rating: 10
Name: Napalm Man
Game: Mega Man 5
Primary Weapon: Napalm Bomb
Description: Aside from atomic bombs and missiles, napalm is one of the most deadly weapons in existence. It has been used in both flamethrowers and fire bombs. During World War 2, the Allies burned the German city of Dresden to the ground with napalm bombs. Napalm was also used heavily in Vietnam both as a weapon and to clear foliage. There is a famous photograph from the Vietnam conflict that shows a children running from a napalm attack, including one little girl whose clothes, as well as some of her skin, had been burnt off. In short, Napalm Man is one scary motherfucker; he's essentially Bombman on crack. He only gets an 8, however, because napalm has killed thousands of real people while Bombman's standard issue Acme bombs can't even kill Yosemite Sam.

Arbitrary Coolness Rating: 8
Name: Needle Man
Game: Mega Man 3
Primary Weapon: Needle Cannon
Description: Needle Man is a stupid name, but it's hard to truly hate a guy who fires giant spikes. Sure, his name probably should have been Nail Man or Spike Man, but whatever. It was an interesting premise and it worked out well. Mega Man 3 was the last truly great Mega Man game. Some of the robots were a little weird, but there were none that were flat-out retarded.

Arbitrary Coolness Rating: 6
Name: Pharaoh Man
Game: Mega Man 4
Primary Weapon: Pharaoh Shot
Description: When Wily was in Egypt Land... Let my robots go! Programmed so hard they could not stand... Let my robots go! I thought that maybe a parody of "Go Down Moses" might make Pharaoh Man slightly more exciting. I was wrong, and I'm sorry. I don't really understand why anyone would build a robot and imbue it with all the powers of an ancient Egyptian pharaoh, especially since those powers are nonexistent. The whole thing was just a poor excuse to design a pyramid level for Mega Man to fight through. In order for Pharaoh Man to be historically accurate, his weapon should have been the Slave Whip instead of the inexplicable fire attack he had.

Arbitrary Coolness Rating: 2
Name: Plantman
Game: Mega Man 6
Primary Weapon: Plant Barrier
Description: "Plant Man" was a terrible song by Gary Young, a former drummer for the equally terrible alternative band Pavement. The video for "Plant Man" was horrible as well and Mike Judge pretty much ripped Gary Young a new asshole on Beavis and Butt-head. None of this has anything to with Mega Man 6 or the character Plantman, but it's a hell of a lot more interesting. I would hope that you didn't need me to tell you that a robotic flower is totally gay. If you did, you really ought to give suicide some serious consideration.

Arbitrary Coolness Rating: 1
Name: Quickman
Game: Mega Man 2
Primary Weapon: Quick Boomerang
Description: Quickman is indeed rather quick. His lightning fast boomerangs, memorable level design, and general reluctance to endorse Nestle's hot chocolate make him one of the all-time greats. Quickman may seem very difficult to defeat but with the right weapon he can be killed in a FLASH. Sorry, but this article was low on puns and I have quotas to meet.

Arbitrary Coolness Rating: 9
Name: Ring Man
Game: Mega Man 4
Primary Weapon: Ring Boomerang
Description: Ring Man is a less sporadic, less interesting variant of Quickman. I don't know what the fuck this joker was trying to pull. Rings are only cool when they're in 16-bit games like Sonic. Even then, rings still kinda suck. Next!

Arbitrary Coolness Rating: 4
Name: Shade Man
Game: Mega Man 7
Primary Weapon: Noise Crush
Description: A robot vampire? I don't fucking think so. Next!

Arbitrary Coolness Rating: 3
Name: Shadow Man
Game: Mega Man 3
Primary Weapon: Shadow Blade
Description: Finally, another villain worth talking about. As I mentioned before, if a game series runs long enough, eventually there will be something involving magic gems and/or crystals. The same thing is true about ninjas. After all, you can't really go wrong with ninjas. Thus, here's Shadow Man. He jumps around and throws ninja stars, and that's about it. I seem to have developed an acute ninja fetish from playing too many NES games, so I can't rate him badly. So instead, here's screenshot of Shadow Man from the arcade game Mega Man 2: The Power Fighters where he's riding a giant fire-breathing mechanical frog:
Try and wrap your brain around that. Don't worry... it's OK to be scared.
Arbitrary Coolness Rating: 8
Name: Skull Man
Game: Mega Man 4
Primary Weapon: Skull Barrier
Description: I like skulls. A lot. Whether it's the Appetite For Destruction album cover, the Jolly Roger, Skeletor, or just some homeless guy that I stabbed to death for no good reason, skulls kick ass. But not Skull Man. Rather than having some badass skull-related attack, Skull Man just has a protective barrier made out of circling skulls. It's the same boring attack that Junk Man and Plantman also have.

Arbitrary Coolness Rating: 1
Name: Slash Man
Game: Mega Man 7
Primary Weapon: Slash Claw
Description: Claws have been done before. Freddy Krueger had them. The second boss in Bad Dudes had them too. Even another Capcom character, Vega from Street Fighter II, had them. Still, they're pretty damn cool. Slash Man is particularly notable because he's clever as hell. This Robot Master is prone to jumping offscreen and dropping a sticky red substance from the ceiling. If he catches you with it, he then combos into his Slash Claw. Tricky bastard.

Arbitrary Coolness Rating: 7
Name: Snake Man
Game: Mega Man 3
Primary Weapon: Search Snake
Description: Snakes. Why does it always have to be snakes? Snake Man is more or less just a rip-off of Serpentor, but that's OK. His ability to summon snakes is pretty cool when he does it, it makes him seem like a second-tier Marvel hero. When Mega Man does it though, it's never quite as effective. Snakes can pretty scary and we shouldn't make fun of Snake Man just because he's one of the easiest robots to beat. Oh wait, yeah we should.

Arbitrary Coolness Rating: 5
Name: Spark Man
Game: Mega Man 3
Primary Weapon: Spark Shock
Description: Spark Man followed in Elecman's steps as master of electricity. The NES had come a long way since the original Mega Man game, so Spark Man had a cooler level, better attacks, and much nicer character design. He loses some points for being a follower instead of an innovator, but he's still cool.

Arbitrary Coolness Rating: 8
Name: Spring Man
Game: Mega Man 7
Primary Weapon: Wild Coil
Description: Here's a phallic robot made out of springs; he could be the fucking mascot for Levitra. Aside from the potential cross-marketing potential, Spring Man is pretty generic. Pass.

Arbitrary Coolness Rating: 5
Name: Star Man
Game: Mega Man 5
Primary Weapon: Star Crash
Description: Arrrrrrrrrrrgh! Like several of Mega Man's other enemies, Star Man has a shield weapon. Star Crash is slightly cooler than Skull Barrier or Junk Shield, but it's still lame. I had high hopes for Star Man. After all, "Starman" is a song on a classic David Bowie album. Unfortunately, Star Man is an embarrassment to that song and to himself. I have nothing more to say on the matter.

Arbitrary Coolness Rating: 5
Name: Stone Man
Game: Mega Man 5
Primary Weapon: Power Stone
Description: Stone Man is a concept that seems like it would be hard to fuck up, but Dr. Wily found a way. His Power Stone is yet another variant of the shield weapons... it rotates around his body and damages Mega Man. It does more damage and has better range, but it's still lame. Stone Man should have been a Gutsman clone. That, or Wily could have come up with an original idea, preferably one that didn't suck. But I guess that would be asking too much.

Arbitrary Coolness Rating: 6
Name: Toad Man
Game: Mega Man 4
Primary Weapon: Rain Flush
Description: Robot toads were a basic enemy in Bubbleman's level in Mega Man 2. As a basic enemy, they weren't bad. However, toads aren't threatening enough to achieve boss status unless they become radioactive like in Blaster Master. The only thing that regular toads can do to defend themselves is pee on anything that might try to pick them up or eat them. Luckily, Toad Man doesn't pee on you. Instead his weapon is rain, which doesn't make any fucking sense at all. Sure, toads and/or frogs have been known to rain from the sky from time to time, like in Magnolia, but they've never been able to control regular rain. Rain Flush is totally useless to Mega Man... except, of course, if you're really desperate to kill Bright Man.

Arbitrary Coolness Rating: 1
Name: Tomahawkman
Game: Mega Man 6
Primary Weapon: Silver Tomahawk
Description: Mega Man 6 came out in 1993 and by that time Indians weren't cool anymore; they were offensive. So when a Robot Master in war paint tried to scalp Mega Man, I found it hard to fight back because I was racked with politically correct guilt. After all, it was Mega Man's white ancestors that had massacred Tomahawkman's tribe by forcing them on a death march for hundreds of miles down the Trail of Robot Tears. OK, so I didn't really feel guilty at all. Still any character that brings the term "politically correct" to mind in any way definitely sucks. Screw you, ya damn Injun.

Arbitrary Coolness Rating: 3
Name: Top Man
Game: Mega Man 3
Primary Weapon: Top Spin
Description: Top Man is an adequate robot with a unique design and some good attacks. Still, a lot of people hate him, the reason being that Mega Man gets an absolutely awful weapon from him. Rather than getting one of the cool top projectiles that Top Man uses, Mega Man gets the Top Spin. Top Spin is a move where Mega Man spins in place and damages anything that touches him. It's hard to time and it has absolutely no range, making it near useless. To make matters worse, Top Spin is Shadow Man's weakness. Good luck trying to hit that sneaky ninja motherfucker with it.

Arbitrary Coolness Rating: 6
Name: Turbo Man
Game: Mega Man 7
Primary Weapon: Scorch Wheel
Description: A robot that transforms into a hot rod, that's not good, considering the precedent: Rodimus Prime. Rodimus Prime was the worst Autobot ever and Turbo Man serves as a grim reminder of the darkest days of the Transformers series. The worst part is that Turbo Man is weak against Shade Man's Noise Crush instead of Slash Man's Slash Claw. Sorry, but if I wanted to fuck up someone's car, I'd slash the goddam tires. Ta ta, Turbo Man!

Arbitrary Coolness Rating: 5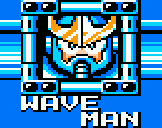 Name: Wave Man
Game: Mega Man 5
Primary Weapon: Water Wave
Description: Wave Man is a water-based robot who happens to resemble Neptune, Roman god of the sea. Despite this, none of his level actually takes place underwater. Oh well. In addition to his wave attacks, Wave Man can also fire harpoons at Mega Man. He's a standard Mega Man enemy through and through. That can be a good thing or bad thing depending on your viewpoint.

Arbitrary Coolness Rating: 6
Name: Windman
Game: Mega Man 6
Primary Weapon: Wind Storm
Description: Windman just might be the only Mega Man 6 villain who doesn't totally suck. Sure, he's not as cool as Airman or Cloud Man, but he's a passable villain just the same. The giant shoulder fans are a nice touch.

Arbitrary Coolness Rating: 6
Name: Woodman
Game: Mega Man 2
Primary Weapon: Leaf Shield
Description: A wooden robot with a leaf attack who can also use the leaves to shield himself from bullets. Hmmm, let me think about this one for a minute or so... Yup, that sucks. Woodman was the first enemy to have a barrier as his primary weapon, paving the way for assholes like Star Man and Skull Man. Nice job, jackass.

Arbitrary Coolness Rating: 1
Name: Yamatoman
Game: Mega Man 6
Primary Weapon: Yamato Spear
Description: What the fuck is a Yamato? Judging by the information above, you might guess that it's some type of spear; it's not. The Yamato were the dynasty that ruled Japan in 4th century A.D. and all Japanese emperors descend from them. I had to fucking look that up and I'm pissed. After all, Mega Man villains are supposed to have obvious names. This douchebag is basically Emperor Man, which is no fucking better than Pharaoh Man. You lose, Yamatoman. You lose.

Arbitrary Coolness Rating: 1
So there you have it, all the major robots from seven classic Mega Man games. I hope you fucking enjoyed this article, because it took forever to put it together. I never really cared what a Yamato was and now it's etched in my brain forever. Goddam it. If you never played any of the old Mega Man games or if you don't remember them that well, you could always pick up the Mega Man Anniversary Collection on PS2 or Gamecube. It's well worth the $29.99.
Posted by: Syd Lexia
02/05/05