This month I've decided to highlight a guy that even I myself have a hard time remembering who's who with, Jason Marsden (it doesn't hurt he fits for an October entry since he was a major character in Hocus Pocus).
"Isn't he that guy who played Spike in Buffy?"


"No, that's James

MARSTERS

"
"What about Cyclops in the X-men movies?"


*sigh* "Again no, that's

JAMES

Marsden, no relation. However their wives have been best friends since the age of six."
Ahem, anyway, Jason Christopher Marsden is probably more recognized by voice than by his looks (he only stands 5'3"). First, one of his scenes from the aforementioned Hocus Pocus:
Live Action
Jason's first live action role was as Tommy in Robot Jox and his first commercial gig was a McDonalds halloween commercial involving the McPumpkin. His other live action roles have included: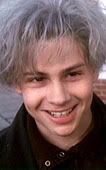 * Dash X in 6 of Eerie, Indiana's 19 episodes.

* Alan Quartermaine Jr. (third actor to play the role) on General Hospital, at age eleven for two years while still still attending a normal elementary school.
* Eddie Munster in the remake of The Munsters known as The Munsters Today.
* Rich Halke, J.T.'s best friend, on Step by Step from 1996 until the series was cancelled.
* Nelson Burkhard, D.J.'s rich boyfriend, on a few episodes of Full House.
* Eric's best friend (also named Jason Marsden) on a few episodes of Boy Meets World.
* Shay Jennings, first mate on the Albatross in White Squall (directed by Ridley Scott).
* Young Burt Ward/Robin in Return to the Batcave: The Misadventures of Adam and Burt.
* The convenience store clerk in Fun with Dick and Jane.
* Jason also directed ten episodes of The Journey of Allen Strange.
Voice Acting
Jason has done a lot of work for Disney. His first gig as a VA was the voice of Cavin (the 4th actor to hold the role), the young squire in Disney's Adventures of the Gummi Bears (he held this role while also playing Eddie Munster in the Munsters remake). Other Disney voices Marsden are adult Kovu (Lion King 2), Shere Khan and the first voice for King Louie (both from Disney's Jungle Cubs), Schnookums (Shnookums and Meat Funny Cartoon Show), and is the current voice for the teen/young adult Max Goof in Disney's various projects (beginning with A Goofy Movie in '95). He was also the voice of Haku in the English dub of Spirited Away. He also provides the narration for advertisements on Toon Disney, sometimes calling himself "J-Mars".
He's also done a lot of work for various DC Warner Bros animated series such as Superman: The Animated Series (Teenage Clark Kent). Justice League (reporter Snapper Carr), Static Shock (Richie Foley aka Gear), Teen Titans, Batman Beyond, Loonatics Unleashed (Danger Duck), and The Batman (Firefly).

* Michael, the marijuana-using main character, in the anti-drug PSA Cartoon All-Stars to the Rescue.



* Tak in the Tak and the Power of Juju video games (Hal Sparks does Tak's voice in the new animated series).



* Rosh Penin in Jedi Knight: Jedi Academy.



* Tino Tonitini in The Weekenders.



* Chester McBadbat's 2nd VA and Imaginary Gary in The Fairly OddParents.



* Rikochet's 2nd VA in Mucha Lucha!



* Chase Young/Reptilian Chase in Xiaolin Shodown.

* Garrett Miller, the handicapped Ghostbuster in Extreme Ghostbusters.
* Myron in Fallout 2.
* Tasslehoff Burrfoot in the upcoming animated movie Dragonlance: Dragons of Autumn Twilight.
* Nermal in Garfield Gets Real
Awards
Marsden has been nominated for the Young Artist Award multiple times.
--In 1989 as "Best Young Actor in a Family Syndicated Show" for Eddie Munster in The Munsters Today.
--In 1990 as "Best Young Actor in an Off-Primetime Family Series" for Eddie Munster in The Munsters Today.
--In 1991 as both "Best Best Young Actor Starring in an Off-Primetime Series" and "Outstanding Young Comedian in a Television Series" for Eddie Munster in The Munsters Today.
--In 1992 as "Best Young Actor Guest Starring or Recurring Role in a TV Series" for his role in the Anything But Love episode "A Tale of Two Kiddies" also nominated for "Outstanding Voice-Over in an Animation Series" as Peter Pan in Fox Kids' Peter Pan and the Pirates.
--In 1993 as "Best Young Actor Co-starring in a Motion Picture" for his role as Buddy at age 15 in Mr. Saturday Night and also "Best Young Actor Guest Starring in a Television Series" for his role on Baywatch.
--In 1994 as "Best Youth Actor Leading Role in a Television Series" for Almost Home and also Best Youth Actor in a Voiceover Role - TV or Movie for Thackery Binx in Hocus Pocus.
--In 1995 as "Best Performance: Young Actor in a TV Comedy Series" for Boy Meets World.
Personal Life
He was born in Providence, Rhode Island on January 3, 1975 to Myles and Linda Marsden. He has 3 elder half-siblings: Rick, Mark, and Ana.
His father, Myles, is a former Premier danseur of the Yugoslav National Ballet and co-founded the Rhode Island State Ballet, giving Jason an initial taste of the spotlight by being surrounded by other entertainers.
His mother, Linda, is a former fashion model.
His family moved from Rhode Island to California in August 1985.
Jason graduated from high school at the age of 16.
He has been married to Christy Marsden since October 4, 2004 and has three children: Ryan, Brian, and Lizzy.
Jason's hobbies include ice-skating, rollerblading, drawing, swimming, and collecting Disney videos. he also has three pets named Aladdin, Jasmine, and Lady.
Connections
Jason's wedding to Christy involved his best friend Will Friedle (of Boy Meets World) as the best man, Alexander Polinsky (Charles in Charges) as the officiator, and Scott Curtis (Aaron's Way) as well as Danica McKellar (The Wonder Years) at attendees.
Other samples of his work below
:
Jason's official website is located at:
http://www.itsjasonmarsden.com