"If Picard can baldly go, why not Picardo?"

-- Robert "Bob" Picardo"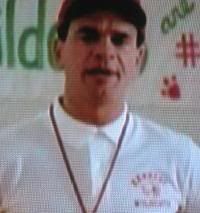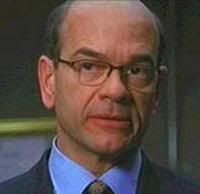 Bio
Picardo "Bob" Picardo was born October 27th, 1953 in Philadelphia, Pennsylvania (the East Falls area) to Joe Picardo. He is an Italian-American, with his father's family originating from Naples and his mother's from Bomba in Abruzzo. He Graduated from William Penn Charter School in 1971 and originally entered Yale University as a pre-med student, but opted to act instead.
He is married to Linda Pawlik (October 21st, 1984-current) and has two daughers Nicollette Arianna (born March 14, 1989) and Gina Emira (born November 3, 1991)
Star Trek
* The Doctor on Voyager and in STV: Elite Force (as well as its expansion), and Star Trek: The Experience's Borg Invasion 4-D.
* Lewis Zimmerman (The Doctor's creator) on Voyager and the DS9 episode "Doctor Bashir, I Presume?"
* Emergency Medical Hologram (a brief appearance) in the feature film Star Trek: First Contact.
* Picardo is the only "Star Trek" regular to have ever written an episode for Star Trek; the Star Trek: Voyager episode "Life Line".
* Had originally auditioned for the role of Neelix on Voyager.
* Along with George Takei and Robert Duncan McNeill, Picardo is the only other Trek regular to wear all three uniform colors.
-- Blue (medical)
in every episode of Voyager, the aformentioned DS9 episode "Doctor Bashir, I Presume?" and in First Contact as the Emergency Medical Hologram
-- Gold (operations/security)
in the Voyager episode "The Swarm" and the DS9 episode "Doctor Bashir, I Presume?"
-- Red (command)
in the Voyager episodes "Tinker, Tenor, Doctor, Spy" and "Workforce parts 1 & 2."
Notable Non-Star Trek Acting/Roles
Note:
Roles marked with a # involve Joe Dante.
Looking over Picardo's body of work, Joe Dante comes up repeatedly. The two are in fact long-time friends and it was Dante who got Picardo onto the silver screen after Dante witnessed him perform on Broadway. Picardo's appeared in Gemini and Tribute on Broadway.
* NID Agent Richard Woolsey on both Stargate television shows, beginning with the SG-1 episode "Heroes (Part 2)." Picardo is an avid fan of SG-1.
* Coach Cutlip on The Wonder Years. The only role that earned him a 1989 Emmy nomination in the category of "Outstanding Guest Actor In A Comedy Series."
* Amazo/Blackhawk (voice) in Justice League and Justice League Unlimited.
* Principal White in the upcoming Ben 10: Race Against Time (the live action Ben 10 movie).
# Forster in Gremlins 2: The New Batch
* Meg Mucklebones in Ridley Scott's film Legend.
# Ralph in Small Soldiers (the scientist responsible for the creation of the microprocessor that was central to the story)
# Starkiller/Wak/Wak and Neek's Father in Explorers.
# Funeral Director Rick Raddnitz from the "Roast Your Loved One" segment of Amazon Women on the Moon.
* Joe "The Meat Man" Morton in two episodes in the 3rd season of Home Improvement. "A Sew, Sew Evening," and "Blow-Up."
* Stan Jamison in the independent film "P.J.", alongside John Heard and Vincent Pastore.
* Dr. Dick Richards on China Beach
# Eddie Quist in The Howling.
# Acme VP of Rhetorical Questions in Looney Tunes: Back In Action
# The Cowboy in Innerspace.
* Arthur Lennox, an enraged father in Cold Case episode "Knuckle Up".
* Larry Kincaid, a media representative in 3 episodes of E-Ring.
Non-Acting Life
Away from acting, Picardo is a member of the Board of Directors' Advisory Council of The Planetary Society, where he has served since the late 1990's. His current pre-recorded voice appears on the Society's radio show.
In 2002, Picardo authored the book The Hologram's Handbook, published by Pocket Books.
Picardo performed in Leonard Bernstein's Mass in D during its European debut tour, alongside with the Yale University Society of Orpheus & Bacchus a cappella singing group as an undergraduate.
Picardo is also a keen hobbyist; his most notable achievements include placing fifth in the SOCAL Hula Dance Championships in both 1982 and 1993. Picardo has been married to Linda Pawlik since 1984 and has two daughters.
Planetary Society
A not-for-profict organization dedicated to the exploration of Mars as well as the rest of the Solar System, as well as searches for Near Earth Objects and extraterrestrial life.
Includes such notable people as Alan Shephard, Steven Spielberg, Bill Nye (vice president), Buzz Aldrin, Ray Bradbury, Arthur C. Clarke, and John Rhys-Davies.
Personal Quotes
"If Picard can baldly go, why not Picardo?"
"I am always amazed when I travel abroad that Stargate has become huge. It's huge in Britain. It's far eclipsed Star Trek. It's now huge in Germany. I understand they're making big inroads in other countries."
--on how the success of SG- has surpassed that of "Star Trek" in recent years.
"I came to the Star Trek franchise a little late. I got into it, I married a woman who's a big Star Trek fan, so, even though I was not into it when I was a kid, in order to court my wife I had to go to Star Trek movies. You know, I think she had a thing for Captain Kirk, right when she was hitting puberty -- which is really when they get you! And, uh, I really grew to understand and appreciate the quality of Star Trek storytelling. And then, when I joined the Voyager franchise, and really became knowledgeable about Star Trek -- and watched more and more of the other shows, that preceded us -- I think that I became a Star Trek fan in my own right, as well as a Star Trek actor."
"Prosthetic make-up is very constricting to wear. The actors who are most successful in it are willing to be very expressive to make the make-up look real and move real. Working in make-up is more emotional acting than regular acting, like you're singing an aria; you let it invade your whole body."
Trivia
* "The Gift" and "One Small Step" are the names of episodes Picardo appears in from both China Beach and Voyager.
* "Prototype" is the name of an episode he appears in in both Voyager and SG-1.
* Picardo is an accomplished singer
and has also put out a CD of parody songs.