I hadn't realized that half of July has already passed and I had yet to do my monthly article. I think this time the wait is justified and that the spotlight is truly appropriate for this site. Without further stalling I give you:
Thomas Francis Wilson, Jr.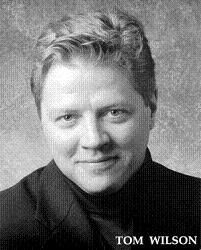 Born April 15, 1959 in Philadelphia, Pennsylvania. He has been married to Caroline Thomas since July 6th, 1985 and has four children: Anna May, Emily, Gracie and Tommy.
Tom Wilson is a creative artist whose professional career has explored almost every imaginable artistic discipline, blending them into a unique and very individual declaration of a life in the arts. A man of fervent but private faith his whole life, the last few years have been interesting, with hundreds of invitations to speak at conferences and retreats, as well as the opportunity to record the music that he began playing in church in the 1970s. Tom has enjoyed a successful career as an actor, writer and comedian for over 20 years. He has more than 50 films, television shows and comedy specials to his credit, and has appeared on talk shows with everyone from Johnny Carson to Jay Leno to David Letterman to Regis Philbin and Kathie Lee Gifford.
As a voice actor, he has worked in dozens of animated series, including many episodes of Nickelodeon's "SpongeBob SquarePants." As a comedian he has been a regular performer at the world-famous Improv and Comedy Store since the day he arrived in Hollywood. His self-written one-man show, "Cowboy Tommy," boasted a series of sold-out engagements. He continues to act in movies and television, and he performs comedy and music at theaters across America.
As a writer and producer, he's written for several prestigious literary magazines, as well as for Universal Studios, Disney, Fox and Film Roman studios, and produced a groundbreaking series of debates for Canadian television called "The Seven Deadly Sins", which examined cultural values and the role of the arts within them.
As an avocation, he is a photographer and painter, with a photograph in the permanent collection of the California Museum of Photography and paintings on the walls of the guest bedrooms of many close personal friends.
Actor, comedian, writer, musician, and artist - Tom Wilson has transcended the limitations of pop-cultural celebrity to become an artist of honesty, gravity and grace.
While attending Radnor High School, he was involved in dramatic arts, president of the debate team, and tuba player in the high school band.
Wilson's first 'real' stage experience was as a standup comedian while studying at the American Academy of Dramatic Arts. He is a contributor to the Bob and Tom Show and is part of their comedy tour.
His breakthrough role was as a bully named Biff Tannen in the movie Back to the Future. Wilson's talents as a comedian and an actor combined to make Biff a character people loved to hate. Wilsdon drew upon his own personal experiences of being bullied as a child to create the Biff persona. When Back to the Future became a trilogy, he was naturally asked to perform in these sequels again as Biff's grandson Griff and Biff's great-grandfather Buford 'Mad Dog' Tannen. He reprised his role as Biff and voiced various Tannen relatives in the franchise's animated series.
Wing Commander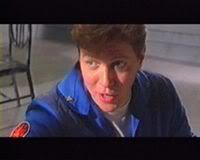 Thomas Wilson has also co-starred in several Wing Commander games with Mark Hamill, as Major Todd "Maniac" Marshall:
* Wing Commander III: Heart of the Tiger
* Wing Commander IV: The Price of Freedom
* Wing Commander: Prophecy
Voice Acting
* Batman: The Animated Series (Tony Zucco)
* Disney's Atlantis: Milo's Return (Carnaby)
* Spongebob Squarepants (As various background characters and Victor)
Live Acting outside of Back to the Future
* In 1994, Wilson played the role of Lt. Eliot Hendricks in Camp Nowhere.
* Wilson played McKinley High School's Coach Ben Fredricks on NBC's Comedy-drama Freaks and Geeks; Fredricks dated Bill Haverchuck's mother.
* In 2003, Wilson appeared on the screen in a mockumentary movie called Trial and Error: The Making of Sequestered.
* In 2004, Wilson played the role of Noah Curry in the Pasadena Playhouse production of the musical "110 in the Shade," also starring Marin Mazzie and Jason Danieley.
* In 2005, Wilson released his comedy album entitled "Tom Wilson Is Funny!"
* In 2006, Wilson appeared in Zoom as Dylan's Teacher.
* His latest roles are supporting characters in the film Larry the Cable Guy: Health Inspector and on the TV drama Ghost Whisperer.
Non-acting Work
Wilson is an accomplished painter, known for painting children's toys. In 2006, he was selected to join the California Featured Artist Series at Disneyland.
Wilson has transitioned into a career as a comic and musician and has recorded a song called "Biff's Question Song" (see below, the video "corrects" itself after about 5 seconds).