Here are three videogame systems from the 90's that you may have never known existed. Two were never released outside of Japan, and the third disapeared before it had a chance to get off the ground, due to it's company's bankruptcy.
So without further ado, let me introduce them:
*********************************************************************
FM Towns Marty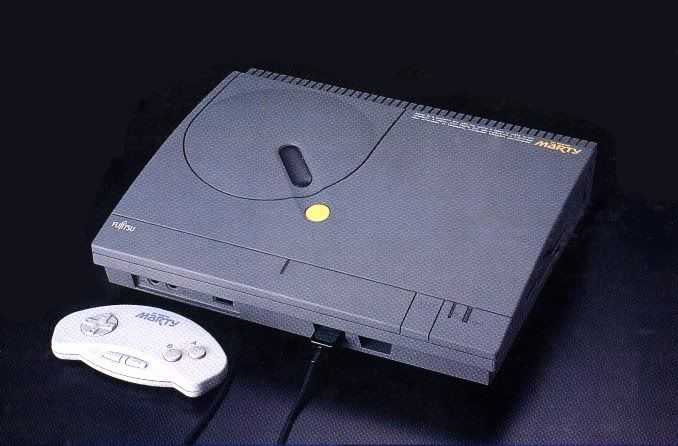 The FM Towns Marty, a.k.a. "FM Towns", a.k.a. "FM Marty Towns. A brief glance at this system, and you might mistake it for a white Turbo Duo, but on closer inspection, you'll notice that the slot on the front isn't for a HuCard, but instead for an actual 3.5" floppy.
The Fujitsu Company decided to make an attempt to penetrate the console games market by taking their popular FM TOWNS line of computers, and adding in some special components to create a stand alone video game console. The plan was for the software designed for the FM TOWNS computers to be modified slightly so that the games would work on both the computer and the console. The FM Towns Marty has the distinction of being the first 32-bit video game console.
This system was compatible with most of the Fujitsu line of computers, so it could use the 3.5" slot to play many of computer games. The 32-bit system's CD reader was used mainly to play games made specifically for this system, although some computer software at the time also came in CD format. The system was released in 1991 with a 386 processor that was later upgraded to a 486 (The FM Towns Marty 2). The first version is much rarer, but more limited. Since the system can play games designed for the FM Towns PC, it's library is larger then what you might expect.
It came with a two button controller and had a port for a second controller as well. A mouse and keyboard were also available to play compatible PC games.
The price does climb.
Now let's talk about the real reason to get a FM TOWNS MARTY.
Porn. Loads and loads of anime porn. Some of the best anime porn games were made for the FM TOWNS, and it's one of the reasons the MARTY series sold well. Adult content was allowed and even welcomed.
The famous "RANCE" and "LA Blue Girl" games were on the Marty. 3rd party support was enormous for porn, and it's to the point you're hard pressed to find a non-porn game you really want.
An overall great system, and with some of the best conversions of 80's and 90's games. The only 32 bit version of operation wolf, etc.
Fujitsu supported the units for many years, and some third party games supported the systems as late as 1999. Fujitsu wisely discontinued the console line with the arrival of the more powerful 32bit Sony Playstation and Sega Saturn.
CPU: 32bit AMD 386 processor
CPU Speed: 16 MHz for Marty 1, 25 MHz for Marty 2
Graphics:
Resolution: 352x232 up to 640x480
32768 color palette - 256 onscreen
Sound:
6 channel FM
8 channel PCM
RAM:
2 MB
Data Storage:
CD-ROM, Single-speed (1x)
Internal 3.5" HD floppy drive
Controllers:
digital, 2 fire buttons, select, and run
2 standard controller ports
keyboard port
***********************************************************************
NEC PC-FX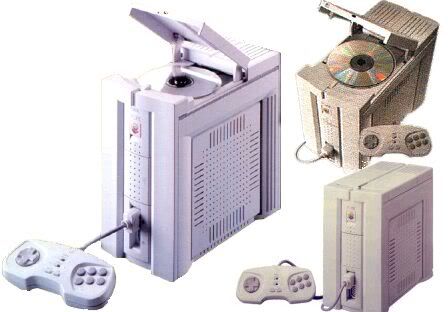 The PC-FX was designed based on a new 32-bit development kit by NEC called "Iron Man". Iron Man was designed in 1992, while the PC Engine was still quite popular in Japan. It was around the time of the first running demonstration units in mid 1992 that NEC started discussing an imminent release of an Iron Man based system with its many third party developers. Many PC Engine developers seemed upset and disinterested since the PC Engine market was still growing, and as a result NEC halted work on the Iron Man and continued making modifications to the PC Engine. By 1993 the 32-bit 3DO platform was released with lots of the developer interest and Sega and Sony let it be known that the Sega Saturn and Sony PlayStation would be ready for the Japanese marketplace in late 1994, and Bandai was also readying the release of their 32-bit Playdia system. Now in a rush to keep the large development base that made the PC Engine so successful, NEC had to make a decision. Rather than spending the time to develop a new, more powerful platform capable of standing up to their competitors, they marched out the now dated 32-bit Iron Man architecture to be used in the PC-FX. The result was that NEC wound up with a severely underpowered system that failed to impress either developers or consumers, and ultimately led to its demise.
The NEC PC-FX strayed from the common console design. The console resembled a PC desktop tower, and even included 3 expansion ports for additional upgrades, and peripherals. NEC decided not to load it up with 3D generating hardware, and instead focused on making PC-FX a killer 2D machine. Focusing on FMV (Full Motion Video) and 2D capabilities, the PC-FX used a custom chip capable of Run Length JPEG compression technology. The result was animation and FMV using full screen true color at 30 frames per second.
The PC-FX is one of the most unique video game systems ever made. Instead of the usual flat & square designs associated with most game systems, NEC decided to use a different approach when designing the PC-FX. One main factor was making the system expandable. Taking a card from the PC market, it was decided to create a tower shaped video game system that offered 3 expansion ports for upgrades and peripherals.
The front expansion slot was to be used for the FX-BMP, a memory expansion module that allowed you to save games to it, rather than the FX internal memory.
The rear and bottom expansion ports were available for connections to the PC-9800 series of computers made by NEC. One of those connections were used for a PC-FX-to-SCSI adapter which allowed the FX to be used as a SCSI CD-ROM drive. To the rear of the unit, you can also find direct A/V, S-VHS connections and the power cord. Voltage and other power information can be found to the top of the rear panel.
In addition to playing PC-FX games, the unit could also play audio CDs (with an expansive CD menu control screen), CD+Gs, and Kodak CDs for viewing your home photos.
The NEC PC-FX was released in Japan on December 23, 1994 to a lukewarm reception. The Sega / Sony consoles shadowed an otherwise impressive system. Most software development was done by NEC and Hudson Soft with a total of 50 game releases.
NEC supported the PC-FX till 1998, and never released the console outside of Japan. A total of about 100,000 units were reported sold.
FACT: In 1995, NEC took a similar concept as the Creative Labs version of 3DO Blaster. The PC-FX Game Accelerator (PC-FX GA) was a card that would allow PC-FX games to be played on computers. The card came in 2 flavors. The C-Bus interface card was compatible with NEC's Japanese line of PC-98xx computers. The other has an ISA interface for IBM / AT compatible computers. The ISA card however requires the DOS/V operating system (DOS/V is a special version of DOS for the Japanese market). The package contained the card, a PC-FX controller, a driver CD, game development software (Basic fighter / RPG game type engines). The card itself supported S-Video, Composite, multiple audio in/out, and requires external power. It is an interesting device that can be imported or purchased on eBay.
CPU
32Bit NEC V810 RISC Microprocessor
Clock Frequency: 21.5MHz
MIPS: 15.5
MEMORY
Main RAM: 2MB
VRAM: 1.25MB
CD-ROM Data Cache Memory: 256KB
Back-up RAM: 32KB
ROM: 1MB
VIDEO
Television Output Type: NTSC
Video Output: 1.0Vp-p 75 ohm
S-Video Output
Bright-Signal: 1.0Vp-p 75 ohm
Color-Signal: 0.286Vp-p 75 ohm
GRAPHICS
Maximum On-screen colors: 16,777,000
Resolution: 640x480
Maximum Parallax: 9 layers
Effects: Rotation, magnification, reduction, cellophane, fade, priority
Image Compression: JPEG w/Run Length compression, full-screen/true color decompression at 30fps, Kodak Photo CD compatible.
SOUND
16-Bit Stereo w/2 ADPCM channels and 6 sample channels at 44.1kHz.
Sound Output: 1.0 Vrms (0db)
Sound Frequency: 20Hz~20kHz
CD-ROM DRIVE
Standard 2x CD-ROM drive compatible with 12mm/8cm CD
INPUTS/EXPANSION
2 PAD Terminals
EXT1 (for Back-up memory)
EXT2 (for extra functions)
EXT3 (for main memory expansion)
DIMENSIONS:
132mm (width) x 267mm (depth) x 244mm (height)
FORMATS:
FX-CD, CD-DA, CD+G, CD+EG, Photo CD
POWER CONSUMPTION: 16W / AC 100V
WEIGHT: Approximately 2.9kg
A list of of known games:
http://www.pcenginefx.com/PC-FX/html/pc-fx_world_-_game_overviews.html
**********************************************************************
Amiga CD32
The Amiga CD32 was Europe and North America's first 32-bit CD-ROM based game console. It was first announced at the Science Museum in London, United Kingdom on 16 July 1993 and released in September of the same year. The CD32 is based on Commodore's Advanced Graphics Architecture chipset, and is of similar specification to the Amiga 1200. Using 3rd-party devices, it is possible to upgrade the CD32 with keyboard, floppy drive, and mouse, turning it into a personal computer.
A hardware MPEG decompression module for playing Video CD was also available, however, as few as 400 modules made it to market. Often regarded as a failure, the CD32 managed to secure over 50% of the fledgling CD-ROM market in the UK in 1993 and 1994 outselling the MegaCD, Philips CDi and even PC CD-ROM sales.
The CD32 was released in the United States and Canada, but was not successful. Commodore was not able to meet demand for new units because of component supply problems. The success of the CD32 in Europe was not enough to save Commodore, and the bankruptcy of Commodore International in April 1994 caused the CD32 to be discontinued only months after its debut.
Like all Amiga computers, the CD32 has a hidden boot menu that can be accessed by plugging an Amiga mouse into port 2 and holding both buttons down while turning the system on. Most of the options in this menu aren't useful on a CD32, but from this menu you can choose to boot in either NTSC or PAL mode. This is important, as there are some games that will refuse to work if the system is in the wrong mode, also since most games don't advertise what video mode they were developed for. It should also be pointed out that despite the naming, the menu really only allows a choice of 60Hz or 50Hz video output; a PAL system booted in NTSC mode will still output a video signal using PAL color encoding, which will usually result in a black and white picture when connected to an NTSC television.
While the console was fairly successful during its lifespan and managed to be the best-selling CD format console in 1993, it was not able to sustain its growth, with Commodore filing for Chapter 11 just a year after its release after not being able to secure additional CD32 shipments for the holiday season. It was speculated that the holiday season could have kept Commodore afloat for another six months. Another problem was the lack of original games, which had also plagued the CDTV before it. Most CD32 titles were simply A1200 games on a CD, with the occasional full motion video sequence or CD audio tracks added on.
I accually own this system, my aunt was a huge Commodore fan, and she had a VIC 20, then a C=64, then an Amiga 500. She preordered the CD32, and after owning it for a couple of months she gave it to me, as it was more of a console system then she was expecting, and no games interested her. (She was big into RPGs such as Ultima, Might & Magic, etc)
I remember showing this system off to all of my friends, blowing them away with the stunning 2D graphics, and the Full motion video scenes in games. At this time, everyone still had SNES and Genesis consoles, and the CD32 blew SegaCD games out of the water.
Processor
68020 @ 14 MHz
Memory
2 MB Chip RAM
up to 64 MB Fast RAM on processor boards
1 kB Flash ROM
The CD32 has 2 MB 70 ns Chip RAM soldered to its motherboard which could not be expanded further.
Although the CD32 is an entirely 32 bit machine, the 68EC020 processor has only 24 bit address space (16 MB) besides its 32 bit data path. This allows 8 MB for Fast RAM expansion which can be added via the expansion slot. Further expansion of the Fast RAM requires the use of a processor board.
The 1 kB flash ROM is intended to store game high-scores.
Custom chips
Alice - AGA display controller
Lisa - AGA display encoder
Paula - audio and I/O controller
Akiko - system address decoder, CD-ROM controller, chunky to planar conversion acceleration
Although the CD32 has the same AGA chip set as the A1200, there is no output provided for the doubled productivity screen modes. This limits the available resolutions of the base model to:
All screenmodes offer up to 256 colors from a 24 bit palette, or 262144 colors in HAM8 mode.
Chunky to planar pixel conversion is hardware accelerated by Akiko's built-in corner-turn memory.
Audio output is 8 bit, 4 channel stereo up to 28 kHz.
All CD32s shipped with Kickstart 3.1 ROM.
Expansion slots
1× expansion slot
The 182 pin expansion slot allows the connection of the FMV module, processor boards or other system expansions.
CD-ROM drive
The CD32 features a double speed (330 kB/sec) top-loading CD-ROM drive. The supported CD formats are ISO-9660 CD-ROM, Audio CD, CD+G.
With the addition of the FMV module CD-i Digital Video and Video CDs can be played.
Interfaces
2× mouse/game DB9 male
1× aux, 6 pin female mini-DIN
2× stereo audio, RCA jack
1× stereo headphones, 3.5 mm jack
1× composite video, RCA jack
1× CD-ROM header
American / European version
1× RF Out
1× S-VHS, 4 pin mini-DIN
French version
1× Scart, 8 pin mini-DIN
Two games that I highly recommend:
Defender Of The Crown 2
This was basically a remake of the original Cinemaware title, except with higher res graphics, a full orchestrated soundtrack, and voice over work for all the game's text.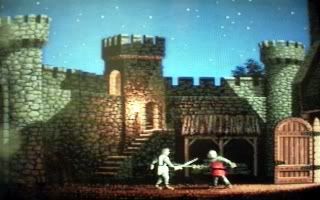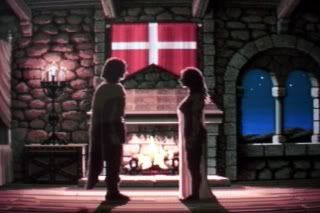 Pirates! Gold
This was the best version of Pirates! Gold by far. The controls were tight, the graphics were great, and the best part is, you could save your game at any point, on the system's built-in memory.