It's epic shit, plain and simple.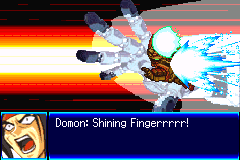 English patch here
, rom can be easily found.
Recently, the game's translation was finished, which makes it the 6th Super Robot Wars game translated into English officially or unofficially (not counting Endless Frontier, which was a spinoff). People who enjoy mecha anime shows will get the most out of this, but even if you aren't a fan of either, there's plenty that you'll love here. Compared to other SRPGs like FFT and Ogre Battle, the gameplay's relatively simple, but it's more accessible, fast-paced, and has the great pick up and play factor that's made games like Advance Wars successful.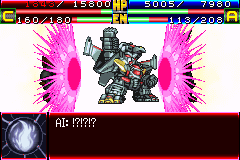 For those completely alien to it, it was released in 2005 for the GBA and is part of the ongoing Super Robot Wars series which has been going since 1991 for the Game Boy. Since then, it has appeared on every console ever, except the original Xbox (and PS3 as of this writing). The main thing about the games is that the storylines of the games cross over
a variety
of mecha anime, video games (such as Virtual On) and manga, often with an original protagonist(s) with his/her own mech(s) and storyline, and enemies (often the final bosses of the games) that ties everything together.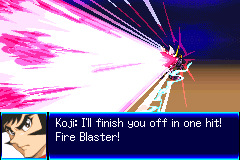 The games proceed as such:
1. Story. Characters exchange dialogue/banter which eventually leads to the...
2. Battle: Where it all happens. Mission objectives are given that may or may or may not change as the story/mission goes on. Players select the units they want on the map, and engage each other in turn-based combat on the battlefield, where units can move, attack using their various weapons, and cast "Spirit Commands" which are a system of "spells" of which each pilot has their own. Correct use of these Spirits is integral to mastering the game. With ground based units on land, the player also has to take into account the terrain and the various advantages/disadvantages it offers. When attacking, a cinematic battle scene plays out of the player unit attacking the other and the other unit either counterattacking, defending, or evading (or vice versa if it's the enemy's turn, in which the player has the choice of what to do pre-fight.) These battle scenes, exhibiting amazing spritework (and in more recent high-generation games, voice acting, in most cases by the actual character's VA), is a hallmark of SRW. It's what you see in videos on YouTube, like these:
Post mission, characters exchange dialogue once more, until the: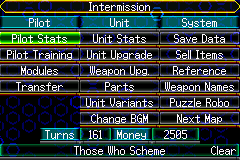 3. Intermission Menu
In this menu, units can be upgraded and have "parts" on them, characters' stats can be upgraded and skills modified, and other preparation for the next mission.
A lot of SRW games often have secrets that can be unlocked if the player makes certain decisions, does certain actions, and/or accomplishes extra mission objectives throughout the game, such as secret units (new machines for characters), extra stages and endings, and additional characters, whom in their series of origin died heroic deaths, or were "bad guys", but weren't truly evil. Since for most of the games including this one, the secrets are never obvious,
here's a link.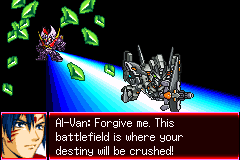 ...that said, here's the cast of SRW J for those who want to know. Some people here might be familiar with some of these shows in one way or another:
G Gundam
Gundam SEED
Mazinkaiser (OVA) + movie (vs. The Great General of Darkness, new)
Tekkaman Blade (new to game, if you don't remember the Teknoman dub, you've played the character in Tatsunoko vs. Capcom; why not play through his show's story, crossed over with others?)
Martian Successor Nadesico
Full Metal Panic! (+ FMP? Fumoffu, both new to game)
Blue Comet SPT Layzner
Combattler V
Voltes V
Brain Power(e)d
Dancougar
Hades Project Zeorymer
Banpresto's originals (you get a choice of two protagonists and 3 mechs unlocked initially to choose from)
Some other game mechanics of this game to note for you guys:
Support Attack/Defense: If a unit next to your attacking unit has the Support Attack skill, they will come in for an extra attack after both your unit's attack and the enemy's action. For Support Defense, if an adjacent unit has the skill, it can defend and take the hit intended for the original unit it is attacking.
Relationship Bonuses: Characters, that in their original shows were friends (indicated by orbs) or love interests (indicated by hearts) earn better hit/dodge rates by being next to each other.
Favorite Series system: 3 series you choose at the beginning at the game as your "favorites" can participate in money and EXP point bonuses. In subsequent gameplays you can choose 3 more until you've done the whole cast.
Unit Swapping: If you put a unit inside a battleship, you can choose to send out an additional unit that you initally didn't choose. All ships can do this up to 3 times max, if you have upgraded them appropriately.
In conclusion, I'm already halfway through the game and I can already say this is one of the best SRPGs the GBA can offer. It'd be crazy to miss out on this. Nice gameplay,
nice music
, difficulty's just right (even if it is one easiest games in it's series), and the translated script. God, the translated script. It's a shame we don't get the non-Original Generation SRW games over here officially 'cause licensing hell for anyone even attempting it.