So I got bored on Friday.
I looked at my piles of computer and electronics junk.
I saw my old stereo system sitting there. It hasn't gotten any use as the CD player died, and I don't listen to the radio, and don't have any cassettes anymore. I thought, that it did have an AUX input, but not just that, but it also had seperate 6 Channel inputs. (for full 5.1 Surround sound)
I then looked at my piles of spare computer parts, and saw a couple of older Pentium 4 server boards.
So, I got an idea and went to Goodwill. I found a nice little entertainment center for only 10 bucks and the plans were set in motion. Some quick modifying, and a system build later, I give you:
Knyte's Karaoke System.
As you can see it is pretty clean looking in the front. The stereo, the center speaker, the two main speakers, and a monitor. The rear speakers are hiding behind the monitor aimed at 45 degree angles.
The backside: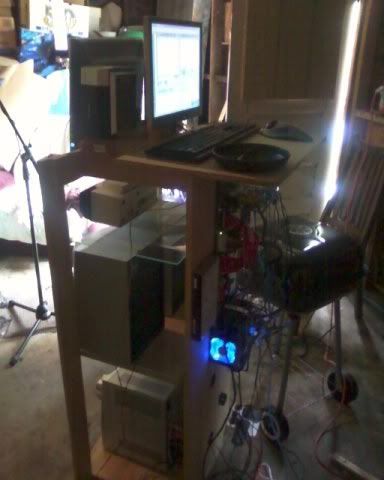 The backside has a 2nd monitor, a shelf for the keyboard and trackball, and the brains of the system.
You control the system from the back where I am running the Roxbox Karaoke Software, the mixer controls for my Audigy Soundcard, and WinAmp for general music playing.
If you look closer at the guts:
I vertically mounted the motherboard (Intel Server Board, 1.8GHz Pentium 4, 512MB DDR, GeForce 4 Ti4200 AGP card, Sound Blaster Audigy Platinum.) power supply (550w) and 2 hard drives (40GB system drive and 80GB storage drive.)
The system is running Windows XP Pro, and at the moment I have about 30GBs of Karaoke songs, which is about 4500 songs. (By next week I should have just about double that amount.)
I need a better mic, as all I have at the moment is one of the mics that came with Singstar for the PS2. (It has terrible sound range, and only sounds good if your lips are practically brushing against the mic itself.)
Here's the system playing "Space Oddity":
FRONT: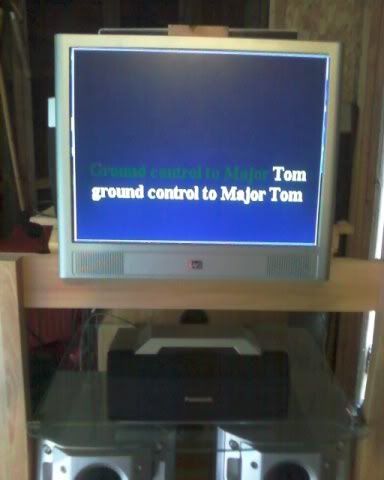 BACK:
I had some friends over Saturday night, and we rocked it well until the early hours of the morning. (My garage actually does a pretty good job of muffling the sound, and the system is aimed to the back of the garage, which faces a welding supply company. So we got the system nice and loud and didn't disturb a single neighbor. Not that I really care since they have parties all the time, in which they are outside hollering and cursing all night. Just what I want my kids to hear.

)
Not a bad outcome for only spending $10 and about 4 hours of build time.
Things I still need to do:
1. Buy a studio quality mic
2. Get a hardware mixer for multiple mics and be able to add echo and reverb. (One of my friends brought his studio mic and an effects processor and it sounded miles better then my crap mic, which we only used as a backup for the evening.)
3. Encase the computer parts on the backside so they are better protected, and so the system can be transported easier to parties and such.