Hello everybody! So, in the last few years, since Fan Expo Vancouver has become a thing, I have gotten into cosplay. My wife and I went to the first Fan Expo, and all the costumes were so amazing that we decided we had to dress up the next year.
At the second Fan Expo, we went as Jason Wyngarde and Jean Grey as the Black Queen. Our costumes were great, but very homemade, as it is incredibly difficult to find a hot pink tux jacket with tails.
The next year, my wife and I joined up with 3 friends to go as Green Lanterns. We had Hal Jordan (the guy who played him has ironically turned into a huge dick and none of us are friends with him anymore), Kyle Rayner, Anya Savenlovich, and my wife went as her own character and I went as Arkkis Chummuck. We even had a little stuffed animal as Ch'p! We got our suits custom made and ordered rings, boots, etc. online and the costumes went over really well!
TL;DR - I like to cosplay, and here is next year's idea!
In the last couple years, I have become a hardcore Whovian. I have had awareness of the show since I was really young and found some old issues of Famous Monsters of Filmland from the 70s at my grandma's house. Now that I've started watching though, I've gone full-blown, now owning EVERY episode (including recreations of deleted episodes), paintings, action figures, sonic screwdrivers, books, etc.
*This paragraph is for those who aren't familiar with the premise. The Doctor is an alien called a Time Lord who travels through all of space and time in his TARDIS, a ship that looks like a 1950s police box and is bigger on the inside. He has many adventures, usually with a companion or two (almost always human, acting as an analogue for the viewers). When The Doctor is fatally injured, he regenerates into a new Doctor, changing his face and personality, but retaining all of his memories. He's the same, but different.*
Ok, so for Fan Expo next year, I have decided to go as The Doctor. BUT! I'm not going to go as one of the established versions of The Doctor. I'm going to go as my own original version. I know that this may score me some shit from fans, but I don't really care.
So, to any Whovians, I would like help choosing a costume from my finalist options.
To any non-Whovians, here are photos of all previous Doctors so maybe you can work from those to help me pick something that suits!
The First Doctor:
The Second Doctor: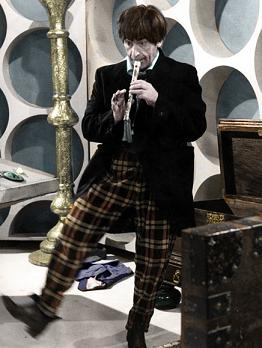 The Third Doctor:
The Fourth Doctor:
The Fifth Doctor:
The Sixth Doctor:
The Seventh Doctor:
The Eighth Doctor:
The War Doctor:
The Ninth Doctor:
The Tenth Doctor: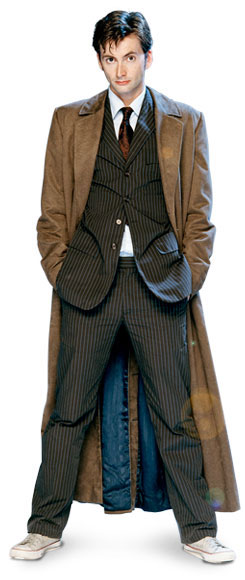 The Eleventh Doctor:
The Twelfth Doctor:
OK! So in looking through the clothes I have and purchasing a few things, these are the combinations I have come up with. I have four sets of shirt/vest combination, and three possible pairs of shoes. I also have two Sonic Screwdrivers to choose from. I would love any help!
*All of these ensembles are with black slacks.*
Combo 1: Red shirt with brown leather boots
Combo 2: White shirt with grey sweater vest, red high tops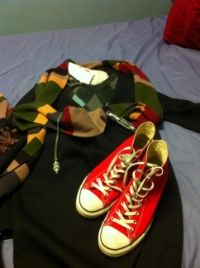 Combo 3: White shirt with red vest, brown leather high tops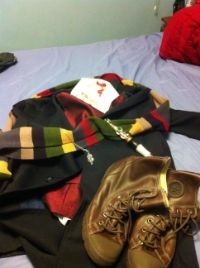 Combo 4: Black shirt with red vest, brown leather boots
You may have recognized the scarf from the Fourth Doctor and the red Converse from the Tenth Doctor. I feel the little familiar pieces are going to help people recognize me as The Doctor.
So my big question is, which of these four ensembles is the best, and would you mix and match? Say you like Combo 3, would you choose the boots or red Converse; the silver Sonic Screwdriver instead of the gold and white one; would you replace the scarf with a different neck accessory?
I know this is a lot to take in, but I really thank you all for your time! After I get this all sorted out, I have to decide on a hairstyle!! GAAAAAAHHHH[/img]