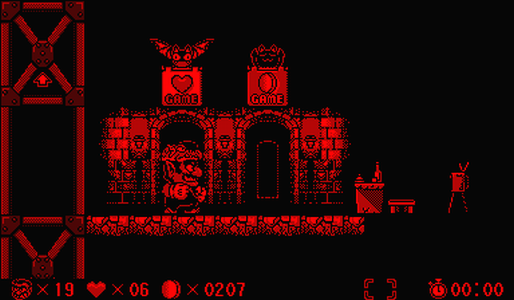 #58: Virtual Boy Wario Land
Released In: 1995
Developer: Nintendo
Publisher: Nintendo
One day, an unsuspecting Wario was vacationing in the Awazon river basin when he suddenly noticed some strange creatures entering a cataract. Wario followed them and discovered that there was a cave behind the cataract that held a spectacular pile of treasure. The creatures tried to stop Wario from stealing their treasure, but he made short work of them. Then, just as the greedy hero was about to grab the treasure, the ground collapsed beneath him, sending him deep into the earth below. Now it is up to you: help Wario return to the surface and collect the treasure!
JRA: Wario was such a worthless character. I mean, none of the Nintendo characters are "deep" mind you, but Wario was just Mario in "evil twin" form. It was stupid. What features did Wario have that Mario didn't? Having Mario work with Dixie Kong would have been a much better idea.
Kris Lexia: I like turtles.
SpamBot 5000: The new wrestling alternative, TNA Wrestling's iMPACT! delivers a distinct brand of high-risk, live-action athletic entertainment. Monday nights on Spike TV.