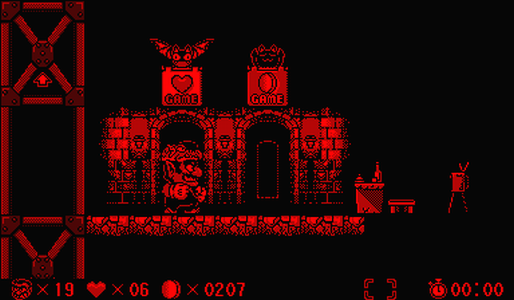 #50: Virtual Boy Wario Land
Released In: 1995
Developer: Nintendo
Publisher: Nintendo
One fateful day, Wario was relaxing in the Awazon river basin when he became aware of some strange creatures, whom he saw entering a waterfall. Wario followed them and discovered that there was a cavern behind the waterfall that held a huge pile of treasure. The creatures tried to stop Wario from taking their treasure, but he made quick work of them. Then, just as the greedy anti-hero was about to grab the treasure, the ground collapsed beneath him, sending him deep into a black and red labyrinth below. Now it is up to you: help Wario return to the surface and get the treasure!
Syd Lexia: It's really too bad the Virtual Boy was more or less dead when Virtual Boy Wario Land came out, because it kicks ass.
Blackout: Virtual Boy Wario Land was released in 1995 and featured striking red-on-black graphics. Marilyn Manson's Antichrist Superstar was released in 1996 and also featured stark red-on-black imagery. Coincidence? Perhaps. Am I trying to say that Virtual Boy Wario Land and Antichrist Superstar were somehow linked in an infernal plot to subvert the youth and turn them into lazy drug-crazed video game addicts? No, because that would be retarded. The only thing I can say is that Virtual Boy, much like Marilyn Manson, has faded from the general public's eye, and is now relegated to the realm of the fanboys.
SpamBot 5000: Comcast $19.99 promotion! $275 rebate, free modem & router! Free Comcast HDTV - save $475!