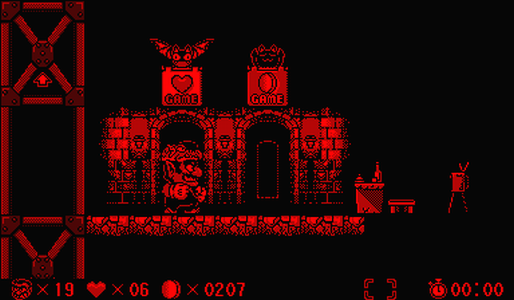 #48: Virtual Boy Wario Land
Released In: 1995
Developer: Nintendo
Publisher: Nintendo
I, Wario, have an interesting story to tell. One day during my vacation in the Awazon river basin, I landed my trusty seaplane, Bulldog, and decided to relax in the shadow of the beautiful Aldegara Waterfall. While basking in the sun, I spied some strange creatures with masks entering the waterfall. This piqued my interest!

I hurried over and followed them into the waterfall. Behind the falls there was a large cave, and in the back of the cave ... there was a vault filled with a glorious mountain of treasure!!

Some of the masked creatures jumped me, but I quickly overcame them. "This treasure is all mine now!", I thought to myself and rushed in to collect the loot. Suddenly, the floor collapsed and I fell!

I found myself deep within the Earth! I was quite angry and vowed revenge on these creatures, "I will get their treasure!!!"

- Wario, Archrival & Nemesis Of Mario; With Powers Comparable To Mario
Dr. Jeebus: Here's another game that I feel like no one else owned as a kid. This was quite possibly my favorite game for at least a year, then I stupidly lent it to a friend who was a total douchebag and he never gave it back. God, that kid sucked. In high school, his parents sent him to study in Brazil for a year hoping that he'd either die or stop being such a cunt. Sadly, neither one happened. Hey Josh, if you're reading this, GIVE ME BACK MY FUCKING GAME!
Avril Lavigne: There has long been speculation about my relationship with Wario, and I want to set the record straight. He's just a boy, and I'm just a girl, can I make it any more obvious? We are in love, haven't you heard? We rock each other's world!
SpamBot 5000: Free online auto insurance quotes from Esurance. Get insurance rate comparisons, and buy your auto insurance policy instantly. Buy car insurance online from Erin Esurance.