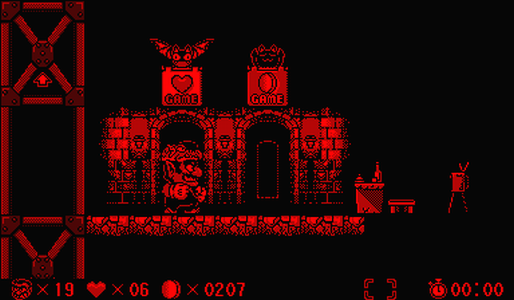 #44: Virtual Boy Wario Land
Released In: 1995
Developer: Nintendo
Publisher: Nintendo
Danger! Doom! Death? These are Wario's destiny - and yours. Do you have the skill and courage to help Wario battle his way through mysterious underground caverns, taking short breaks every 20 minutes to prevent motion sickness, to acquire a ridiculous amount of mad loot? If you think you have what it takes, be warned: you will face off against a host of bizarre enemies with names like Mask-Guy, Chain-Saw Fish, Blade-Face, Chippy, and Mastah Mosquito. Can you succeed?
Syd Lexia: This game probably deserves to be on this list due to its sales figures and the undeniable impact it had on the gaming industry, but it certainly doesn't deserve to be #44. If I had my druthers, I'd have placed this at #100, because that's as high as it deserves to be. Impact or not, Virtual Boy Wario Land is a terrible fucking game.
Valdronius: Why is this game even here? This has no place here.
Alexis Acid: If any game deserves to be on this list, it's Virtual Boy Wario Land.
SpamBot 5000: MTV's Jersery Shore! Read The Latest About MTV's Hot New Show. Gossip, Pictures, Video, More.