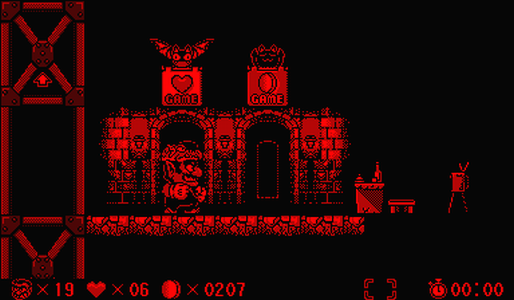 #33: Virtual Boy Wario Land
Released In: 1995
Developer: Nintendo
Publisher: Nintendo
Pits! Peril! Plunder! These are Wario's destiny - and yours. Do you have the skill and courage to help Wario battle his way through mysterious underground caverns, taking short breaks every 20 minutes to prevent motion sickness, to acquire a ridiculous amount of mad loot? If you think you have what it takes, be warned: you will face off against a host of bizarre enemies with names like Mask-Guy, Chain-Saw Fish, Blade-Face, Coo-Coo, Thorn-Ball, Vase-Based, and Mastah Mosquito. Can you survive?
Syd Lexia: I hope I get cancer, because then I can refer to my cancer as Virtual Boy Wario Land. Then I'll be able to get away with it; people seem to get pretty pissed at me when I refer to *their* cancer as Virtual Boy Wario Land. In many ways, Nintendo's first Wario Land sequel is a lot like cancer. It is a cruel, relentless trial, one that has claimed many lives. And just like cancer, you never really beat Virtual Boy Wario Land... you merely survive.
Seriously though, this game always annoyed the fucking hell out of me. It's significantly harder than the original Wario Land, what the fuck was that about? I beat many Virtual Boy games in my childhood, but this was not one of them.
SpamBot 5000: Utah Jazz shop. Shop for Utah Jazz Gear. Official Utah Jazz items.